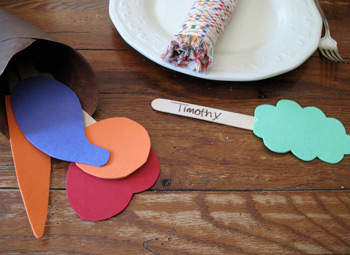 Paper Plate Cornucopia
This is a cute way to hold nametags for guests. As they arrive, have them look through the cornucopia for their nametag to display in front of their plate.
What You Need
9" paper plate
Brown acrylic paint
Paintbrush
Jumbo craft sticks
Craft foam: orange, green, red and purple
Fine point marker
White craft glue
Scissors
Glue stick
How To Make It
Paint the paper plate with brown paint on both sides and let dry.
Use patterns to cut out shapes from craft foam (purple for eggplant, green for grapes, red for apples, and orange for carrots and oranges).
Glue the fruit and vegetable shapes onto the ends of the craft sticks.
Write your guests names on the craft sticks.
Roll the paper plate into a cone shape and secure with glue stick. You may need to hold it for a minute or so to allow the glue to adhere.
Fill the cornucopia with name sticks.
Helpful Hints
Instead of writing the guests' names for them, keep some pens handy and allow guests to choose what harvest food they want and have them write their name on the sticks themselves.
If you have a large number of guests coming, make several cornucopias so that they are within reach to everyone at the table.
This project was created by Amanda Formaro, originally for Kaboose/Spoonful.