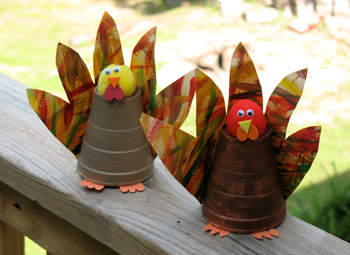 Paper Cup Turkeys
Line these colorful gobblers up on your table or use them as place cards. Either way, they are sure to bring some smiles to the table!
What You Need:
Paper cup
Construction paper
Acrylic paint
Pencil
Scissors
Pom pom
Googly eyes
Craft foam
Craft glue
How to Make It:
Paint a paper cup brown and set it aside to dry.
Fill a piece of tan or white construction paper with random brush strokes in fall colors. Let the construction paper dry completely.
Trace your hand on the construction paper, then cut it out. Use the scissors to make the fingertips pointy to look more like feathers.
Cut a triangular beak, a heart-shaped wattle, and a pair of feet from craft foam.
Assemble the turkey by gluing the eyes, wattle, and beak to the pom pom. Turn the cup upside down and glue the pom pom to what would usually be the bottom of the cup and the feet at the cup's rim. Glue the handprint feathers in back.
This project was created by Amanda Formaro, originally for Kaboose/Spoonful.