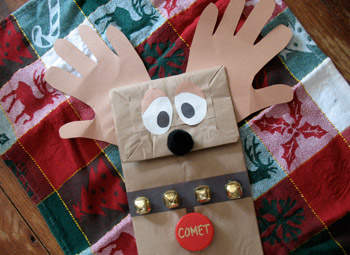 Paper Bag Reindeer
This adorable reindeer bag makes a fun puppet and uses your child's handprints as the antlers. You can change the color of the nose to red to make Rudolph instead!
What You Need:
Brown paper lunch bag
Medium black pom-pom
White craft glue
Construction paper: black, white and tan/brown
4 jungle bells
Scissors
Red plastic milk jug lid
Glue stick
Gold paint pen
How To Make It:
1. Use white glue to attach the pom pom to the flap of the bag.
2. Cut out the eyes using the patterns as a guide. You will need two brown/tan eyelids, two white eyes, and two black pupils. Assemble and glue the eyes. Use the glue stick to attach the eyes to the front of the bag above the pom pom nose.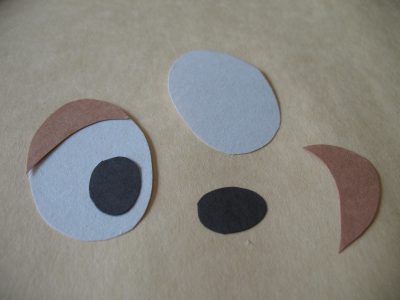 3. Cut a strip of black paper with width of the paper bag, about one inch wide. Cut a small piece of black paper for the nametag hanger.
4. Glue the small strip to the center of the larger strip so that it is hanging down.
Use gold paint pen to write "Comet" on the red plastic lid. Glue the lid to the bag, overlapping the small black strip (hanger).
5. Use a generous amount of white craft glue to attach 4 jingle bells to the black strip (collar).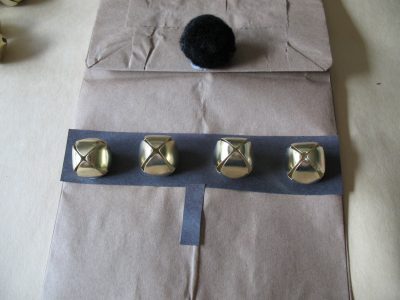 Trace hands onto brown/tan paper and cut out. Use glue stick to attach the hands to the back of the bag as the antlers.
Helpful Hints:
To make this puppet into Rudolph, use a red pom-pom and write "Rudy" on the plastic lid.
Instead of handprint antlers, you can simply cut simple antlers from brown paper.
You can use large googly eyes instead of the pattern if you prefer.
This project was created by Amanda Formaro, originally for Kaboose/Spoonful.