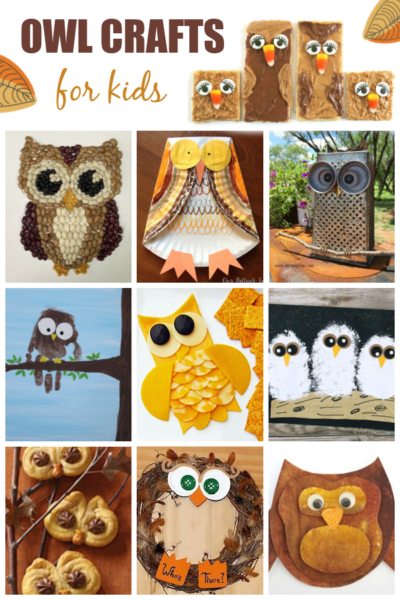 Owls are a popular craft subject, probably because they are adorable! They are often associated with the fall season, and also with Halloween. You can incorporate owl crafts into different themes too, such as wizardry or talking about forest animals. We've collected 100 of the best owl crafts and recipes, so be sure to have a look at all the options. Below are ten of our favorites.
Owl Crafts for Kids
1. Peanut Butter Graham Cracker Owls – Make a family of owls that doubles as a tasty snack. Kids will love it!
2. Paper Plate Owl – Turn a paper plate into the cutest owl ever! This easy craft is great for young children
3. Handprint Owl – Capture your child's small handprints forever with this handprint owl painting.
4. Owl Rolls – Craft up some delicious flaky treats, made using refrigerated crescent roll dough, chocolate, and a pretzel beak.
5. Kitchen Grater Owl – Transform items from the kitchen into gorgeous owl art. This makes a wonderful gift.
6. Bean Mosaic Owl – Use a variety of dried beans to craft up this fabulous mosaic owl.
7. Cheese Slice Owl – Create an owl out of cheese slices! It's super cute and actually quite easy to do.
8. Who's There Owl Wreath – Welcome guests to your home with this fun owl wreath.
9. Crayon Melt Owl – This darling owl starts with broken crayons. What a great way to use something you might otherwise throw out!
10. Owl Babies Craft – Make a trio of baby owls inspired by the book Owl Babies by Martin Waddell.
Remember, there are dozens more owl crafts and recipes on the site. Don't forget to check out the rest!