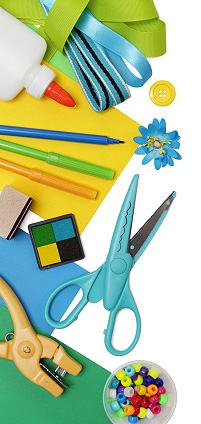 After a session of crafting with your kids, it would be so easy to just empty the entire tabletop of scraps and extra supplies into the garbage can, wouldn't it? Of course that's not economical or environmentally friendly, so instead you'll need a plan for keeping your craft supplies organized.
[NOTE: Linked words in this article will take you to craft ideas using that particular type of craft supply.]
Here are several starter ideas for those of you with a growing number of supplies that need their own space:
Plastic Shoe Boxes
These boxes are available at dollar stores and discount department stores. They are see through and have a lid, making them the perfect holder for so many different types of supplies. They stack one on top of the other and make for a very tidy way to hold loose supplies. Some of the boxes I have designated in my own craft room include pom-poms, craft sticks, colored pencils and markers, stickers, feathers, chenille, and tissue paper.
Bead Storage Boxes
These are clear, plastic storage boxes with a snapping lid. They have individual compartments allowing you to keep certain types or colors of beads separate from each other. You can find these at discount department stores and craft supply stores. They aren't just for beads though. Think googly eyes, pin backs, magnets, stick pins, thumb tacks, buttons, or anything else that's small and needs to be contained.
Recycled Aluminum Cans
Not only do these make for great holders, they can be a fun craft project too! After you've decorated the cans with paint, felt, decoupage or stickers, use them for storing scissors, pencils, pens, paintbrushes, glue sticks, and markers.
Lazy Susan
A quick trip to the discount department store and a $5.00 investment will yield you a two shelf lazy susan that gives you extra surface area by allowing your supplies to rotate. I keep mine at a shelf and store several different aluminum cans on it. A quick turn of the lazy susan and my supplies are within easy reach.
Expandable File Folder
These are perfect for sorting out and holding your different colors of construction paper. Because there are individual pockets it's easy to keep colors separate and to put sheets away when you are done creating.
Modular Latch Boxes
Sterilite makes a storage box with latching lids that fit sheets of felt perfectly. While one or two boxes might be plenty for your felt supply, I have 6 of them in my arsenal. I always have several sheets of each color of felt on hand. I have tried several different ways to store felt and this has been the most efficient. They are clear, the lids lock and they stack nicely.
Plastic Drawer Cart
If you are like me and you have a supply of cardboard tubes, egg cartons, cardboard, and aluminum cans just waiting their turn for crafting day, a 3-drawer plastic storage cart is a great way to keep these items organized. I use mine for all of the above items, plus colorful napkins, paper plates, and coffee filters.
Labels
One of the keys to keeping organized is knowing where everything is. Once you have all your supplies in their place, label them. Simple address labels and a marker work just fine, or you van make your own on your computer. Better yet, have the kids create some fun, colorful labels using crayons on address labels.
The Clean Up and Restock
Once your supplies all have their place, have a basket designated as the "clean up basket". After a crafting session, have your kids help collect the salvaged and extra supplies and place them in the basket. Make it a game by having the kids match the supplies with their proper containers.
Zipper Storage Bags
Finally, for those little scraps of felt, pieces of construction paper and tissue paper, designate separate plastic storage bags just for scraps. Store them in the appropriate container, but having small stray pieces in the bags will make them easier to contain.
Keeping your craft supplies organized will not only keep your craft area neat and clean, it will save you money. When you know where your supplies are you are less likely to buy something because you just aren't sure if you have it at home.
Happy crafting!
[article contributed by Amanda Formaro of Crafts by Amanda]