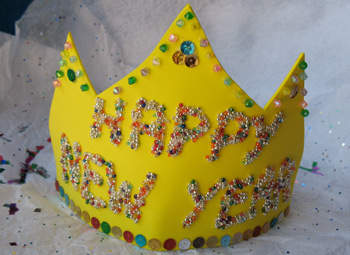 New Year Crown
Be the queen of the party with this bead-encrusted crown. Celebrate the new year in style!
What You Need
Yellow and white craft foam
White craft glue
Scissors
Seed beads
Sequins
Small colorful beads
1-2 self adhesive Velcro fasteners
How To Make It
Cover the work surface or use a cookie sheet with sides to work on so that the beads do not fall all over the floor.
Cut a crown out of yellow craft foam using the pattern. Cut two strips of white craft foam approximately 1" x 12". Glue the white strips to the bottom edge of the yellow crown. Let dry.
Place the crown around your head to get a measurement for the headband. Trim where needed, then attach Velcro fasteners that will hold the headband in place.
Lay the crown face up and use the white craft glue to write "Happy" across the top and "New Year" below that.
Cover the glue words with seed beads. Cover all the glue completely and press down very gently. Wait a few minutes before lifting the crown and letting the excess beads fall off.
Decorate the rest of the crown and the headband using sequins and small colorful beads. Let dry completely. This could take several hours.
This project was created by Amanda Formaro, originally for Kaboose/Spoonful.