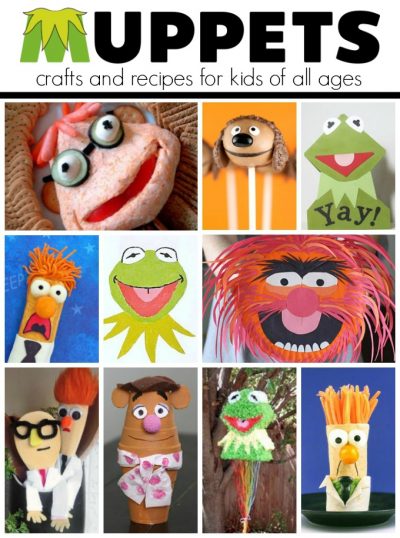 Do you love those adorable puppets known as The Muppets? Kermit the Frog, Miss Piggy, Fozzie Bear and a host of other characters have entertained children (and adults) for decades. Make your own muppet themed crafts or recipes! Below are ten of our favorite Muppets crafts and recipes.
Muppets Crafts and Recipes
1. Beaker and Dr. Honeydew Spoons – Make this clever spoon project featuring Dr. Bunsen Honeydew and his faithful assistant, Beaker, who are always stirring up trouble at Muppet Labs.
2. Muppets Painted T-Shirts – Paint your favorite Muppet character onto a t-shirt! The tutorial includes instructions for Kermit and Fozzie Bear.
3. Foam Cup Fozzie Bear – Turn foam cups into the world's only bear comedian, Fozzie Bear!
4. Paper Plate Animal – Animal is one of the most beloved members of The Muppets, with his wild hair, crazy expressions, and talents on the drums. Make your own version with a paper plate.
5. Pull-String Kermit Piñata – Muppets fans will love celebrating any occasion with this cute pull-string Kermit piñata.
6. Beaker BLT Wraps – This edi­ble ver­sion of Beaker is healthy, tasty, and totally adorable!
7. Rowlf Cake Pops – These yummy cake pops feature Rowlf, Muppet Theatre's talented resident pianist.
8. Beaker Twinkie – A Twinkie is the perfect shape to create an edible version of Beaker that couldn't be cuter!
9. Scooter Appetizer – Start a Muppets party off right with a savory Scooter appetizer tray that your guests will love.
10. Kermit the Frog Card – This card is shaped just like Kermit and will be a hit with any Muppets fan who receives it.
You can get all these and more Muppets crafts and recipes at Fun Family Crafts!