Mummies are a favorite for Halloween crafting and it's easy to see why! They are adorable and so easy to make. A few wraps of muslin, paper, or fabric, and you can turn just about anything into a cute mummy. So what are you waiting for? Check out ten of our favorites below, or browse through all of the mummy crafts and recipes we have collected for you!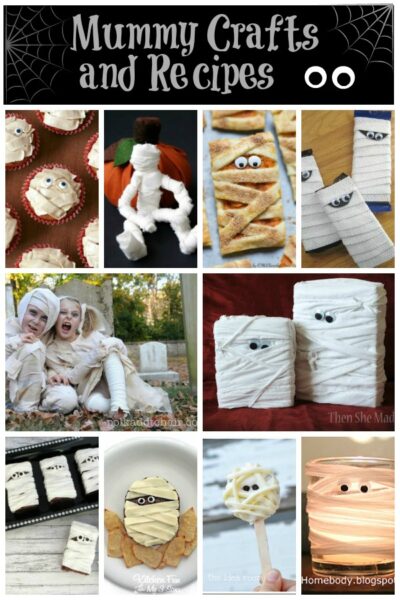 Mummy Crafts and Recipes for Kids
1. Yummy Mummy Brownies – Bake delicious mummy brownies for friends and family. They'll never guess they're gluten-free!
2. Mummy Candy Bar Favors – These mummy candy bars couldn't be easier to make and they're sure to be a hit with party-goers or trick-or-treaters.
3. Mummy Lunch with Coffin Chips – Halloween treats don't have to be sweet! This fun lunch is perfect to serve during Halloween season.
4. DIY Mummy Costume – Dress up like a mummy for a classic costume that never goes out of style. This tutorial makes it easy to look fantastic.
5. Mummy Pumpkin Cookies – These pumpkin cookies are to die for! Pumpkin spice gets all dressed up as a mummy with these delicious treats.
6. Mummy Boxes – Turn an old sheet and whatever cardboard boxes you have into great mummy decorations. They'll only look better from year to year as the fabric ages.
7. Mummy Action Figure – Bend and pose this clever mummy action figure! You could even use it to start your own Halloween tradition similar to the Elf on the Shelf.
8. Mummy Pumpkin Chip Cupcakes with Brown Sugar Frosting – Pumpkin, chocolate, and brown sugar frosting, and cute to boot? Sign me up!
9. Mummy Votive – This mummy votive positively glows with Halloween spirit and it's very easy to do.
10. Mummy Oreo Pops – These tasty treats are ridiculously easy to make and look so festive. Serve them at a Halloween party.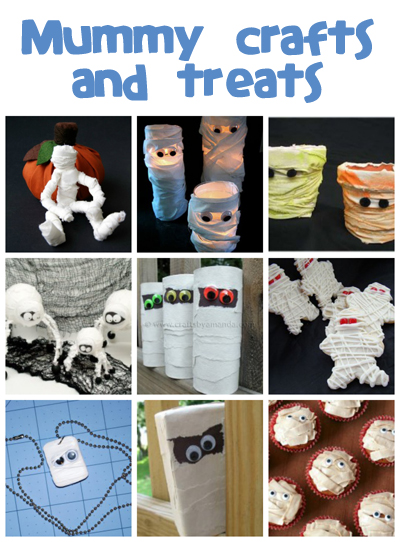 Don't forget to the rest of the mummy crafts and recipes here at Fun Family Crafts. All of our other Halloween crafts, recipes, printables and costumes are waiting for you too!