Nothing warms a mother's heart like a homemade gift on Mother's Day. Here at Fun Family Crafts, you'll find over 350 Mother's Day craft and recipe ideas for kids of all ages. These unique cards, handmade gifts, and tasty treats help show Mom just how special she is.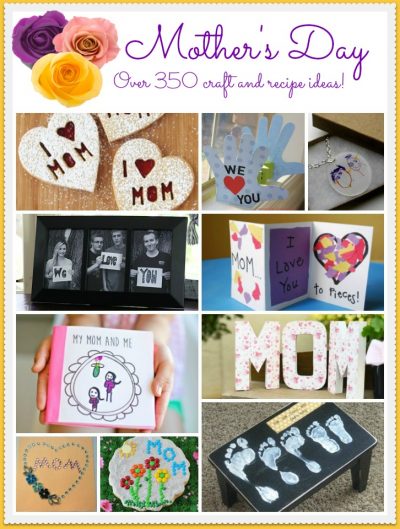 Mother's Day Crafts and Recipes
Here are 10 of our favorite Mother's Day craft ideas. You can see all 350+ Mother's Day ideas here.
1. We Love You Photo Frame – Gather all the siblings, make some signs and create a beautiful multi-paned frame for Mom. It's a gift she'll treasure forever.
2. Sugar Cookie Garden Stone – This pretty 'garden stone' is actually a delicious sugar cookie with cookies 'n cream frosting and candy decorations! It's a great choice for any Mom who loves gardening.
3. Love You To Pieces Card – Remind Mom that you love her to pieces with this fun project that's easy enough for the youngest of crafters. It uses materials you probably already have on hand.
4. Printable Mother's Day Book – Create a special book for Mother's Day. The tutorial includes printable frames for illustrations and fill-in prompts.
5. Quilled Mother's Day Art – This lovely project combines quilling and rhinestones on a felt backing that Mom can display on the wall. Customize it with her favorite colors.
6. Linzer Cookie Hearts for Mom – Treat Mom with delicious raspberry linzer cookies that tell her just how you feel. Small cookie cutters make it simple.
7. Kid Art Necklace – Mom will treasure a necklace featuring her child's artwork. This project needs adult supervision, so it's a great choice for Dad or a teacher to do with the kids.
8. Family Footprint Stool – Little ones grow up so quickly. Years from now, this wonderful step stool will remind Mom of the days when the kids were small.
9. Love You Handprint Card – This cute card expands to say, "I love you this much!" It's inexpensive to make and easy to personalize for Mom.
10. Paper Covered Letters – Spell out MOM using large paper mache letters covered in beautiful patterned papers. It's a great way to make her feel so special.
These are just a few of the 350+ Mother's Day project ideas on Fun Family Crafts! You can see them all here.