After looking through the more than 40 popcorn-themed crafts and activities here at Fun Family Crafts, I was ready to make some popcorn crafts of my own. My son's Cub Scout Pack just finished up popcorn sales, so I have a box of microwave kettle corn in the pantry. The box has 18 packages in it, so I snuck some of the packages out of the box and into the craft room to transform into Halloween critters and characters.
Hi! This is Cindy deRosier, the Editorial Assistant here at Fun Family Crafts. I'm the one who edits and schedules your submissions and contacts you if there are problems or questions. I'm also the one who does most of the craft round-ups you see, such as the recent post about the best Popcorn Crafts for Kids.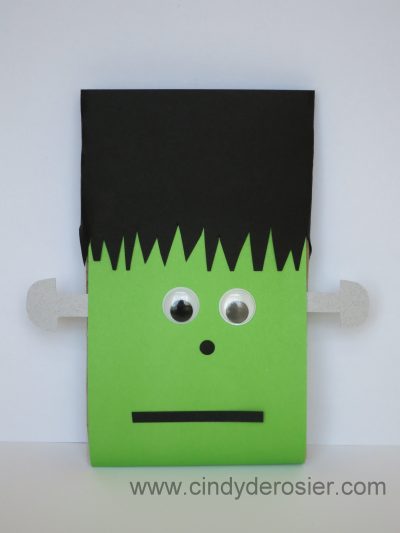 To make a Microwave Popcorn Frankenstein, you need:
a package of microwave popcorn, cardstock or construction paper (green, black and silver/grey), large googly eyes, scissors, hole punch, and glue.
Begin by wrapping the microwave popcorn with a piece of green cardstock. I left the sides open so that the recipient will know what's inside.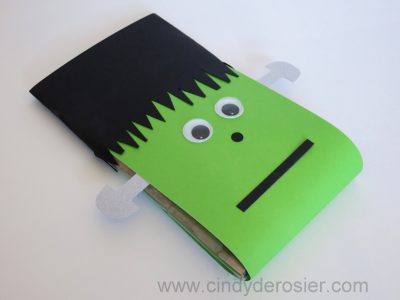 Make jagged cuts along one edge of the black paper to make hair. Punch a small black circle for the nose and cut a skinny black rectangle for the mouth. Glue those features and the googly eyes in place. Use the grey cardstock to cut bolts; glue them to the inside of the green cardstock. That's all there is to it!
Of course, I couldn't stop with just Frankenstein. I also made a spider, skull, mummy, and jack o' lantern.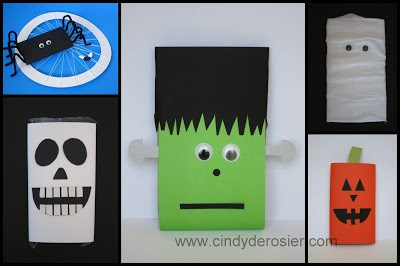 You can find the instructions to make the other four projects at my blog, Cindy deRosier: My Creative Life. While you're there, you might want to check out the rest of my kids' craft tutorials. Happy Halloween and keep crafting!