Nature is beautiful year-round, but there's something about the colors of fall that can take your breath away. Bring the beauty of fall leaves indoors with one (or more!) of our fall leaf crafts for kids. We have over 130 crafts using fall leaves or using other materials to mimic fall leaves. There are crafts for kids of all ages and abilities.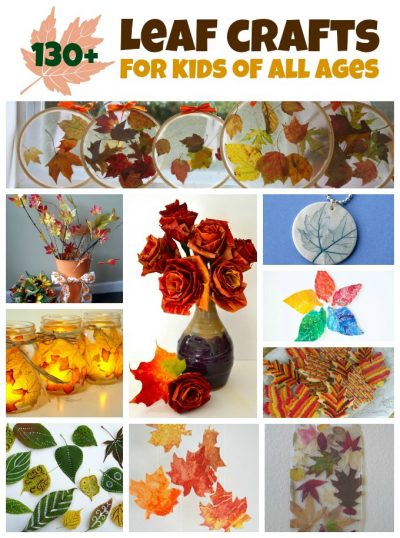 Leaf Crafts for Kids
Here are 10 of our favorite fall leaf crafts for kids. You can see all 130+ crafts, activities and recipes here.
1. Autumn Leaf Bouquet – This stunning bouquet of roses doesn't actually have any roses in it! Each flower is made using freshly fallen maple leaves.
2. Fall Leaf Cookies –  These beautiful cookies look difficult to make, but they are really quite simple. All these designs are made with just one decorating tip.
3. Embroidery Hoop Leaf Suncatchers – This simple craft is appropriate for even the youngest of crafters. It's an easy way to bring the beauty of autumn indoors.
4. Watercolor Rainbow Salt Dough Leaves – Create fall leaves in a rainbow of colors using salt dough. Begin with a nature walk to collect the leaves for the project.
5. Leaf and Branch Centerpiece – Head outdoors to gather fallen leaves, twigs and branches. Then head indoors and glue it all together to create a gorgeous arrangement.
6. Leaf-Imprinted Clay Necklace – Make inexpensive, eye-catching jewelry using leaves and polymer clay. Wear the leaf-imprinted pendant as a necklace or use it as a zipper pull, a gift topper, or a keychain.
7. Fall Leaves Wall Hanging – Create a beautiful collage of leaves to hang on the wall or in the window. Young crafters will love that they can do this project almost entirely without help.
8. Decorated Leaves – Fall leaves are beautiful just the way nature made them, but with a little paint you can transform them into something very unique that's just as beautiful. This is a relaxing project that's perfect for a quiet day at home.
9. Autumn Leaf Mason Jar Candle Holder – Use real leaves or artificial leaves to make candle holders that are a perfect decoration for fall. This is a wonderful gift to give to special teachers, coaches or friends to let them know you're thinking of them.
10. Waxed Paper and Crayon Fall Leaves – With just waxed paper and crayon, create colorful fall leaves. Hang them in a window to mimic the beauty that is just outdoors.
Be sure to check out all the leaf crafts for kids here!