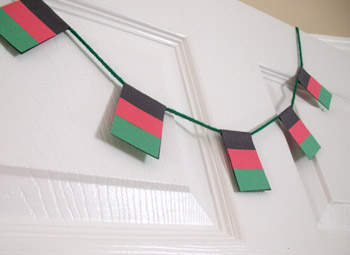 Kwanzaa Flag Garland
Make this flag garland to decorate for Kwanzaa this year. This garland uses the symbolic colors of the holiday – red, green, and black.
What You Need:
18″ x 12″ construction paper (green, red, and black)
Green yarn
Scissors
Glue
How to Make It:
Cut 3 pieces of black construction paper lengthwise. This will give you six pieces that are 18″ x 6″.
Fold each piece of black in half so that it is 9″ x 6″.
If your banner will be hanging against a wall, cut six pieces of green construction paper 3″ x 6″. If you will see it from both sides, cut 12 pieces of green construction paper 3″ x 6″.
With the folded ends of the black paper at the top, glue the green construction paper to the bottom of the black, taking care to make the edges flush. Repeat this with the remaining green construction paper pieces.
Repeat steps 3 and 4 with the red construction paper, except glue it directly above the green construction paper.
To assemble your banner, cut the green yarn the length you want it to be. Drape each of the flags over the yarn, spacing them equally. Glue the two sides of the black construction paper together.
This project was created by Amanda Formaro, originally for Kaboose/Spoonful.