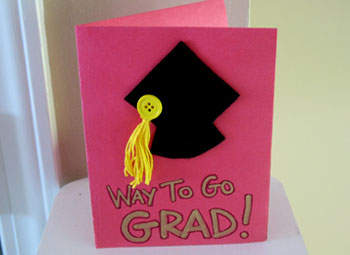 Way To Go Grad Card
Help your favorite grad celebrate his/her achievement by making this homemade card for graduation. It will be treasured long after the cap and gown have been hung up in the closet.
What You Need
1 sheet red construction paper
24" yellow yarn or embroidery floss
Scissors
Yellow button
½ sheet black felt
Gold paint pen
Red fine point marker
White craft or felt glue
How To Make It
Fold construction paper in half, and then fold it in half again the opposite direction to make a small card.
Cut off 2 inches from the floss or yarn and set aside.
Fold remaining floss or yarn in half so that both ends meet. Fold in half again and again until the length is only 2 inches. Use the 2-inch piece of floss to tie a knot around the top ½ inch of floss to create the tassel. Use scissors to cut the looped ends.
Cut the hat pieces from the black felt and glue together. Glue the tassel to the hat and glue the button to the tassel.
Glue the hat onto the top section of the card. Use a gold paint pen to write "WAY TO GO GRAD!" underneath the hat. Outline the gold letters with a fine point red marker.
Helpful Hints
Use construction paper, yarn and a button that match the graduation colors.
Black construction paper can be used in place of felt for the hat.
This project was created by Amanda Formaro, originally for Kaboose/Spoonful.