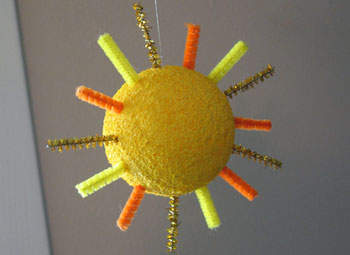 Foam Sun Ornament
This bright foam sun decoration will look like it's floating in the sky when suspended from your bedroom ceiling. It's so easy to do!
What You Need:
3" foam ball
Yellow craft paint
1 each yellow, gold, and orange chenille stems
Scissors
White craft glue
Fishing line
How To Make It:
Place the foam ball onto something that can keep it stationary. We used a lid from a plastic milk jug. Paint the ball with a generous amount of yellow paint and let dry.
Cut the chenille stems into 3" pieces and insert into the ball, alternating colors as you go, about ½ inch apart. Insert the yellow and orange stems a little deeper than the gold so that the gold appear as longer sun rays.
When finished, remove one of the gold stems and tie a piece of fishing line around the stem.
Place a dot of glue into the hole that you removed the stem from then insert the gold chenille stem back into the hole.
Suspend the sun from the ceiling by using a thumbtack.
This project was created by Amanda Formaro, originally for Kaboose/Spoonful.