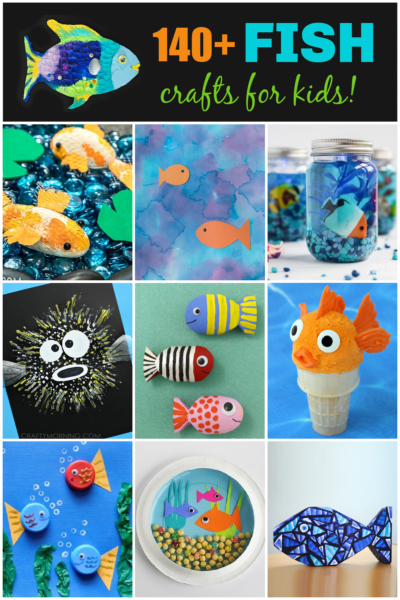 Fish crafts are really popular with kids of all ages and there are so many different times to use them. At Fun Family Crafts, we've collected over 140 fantastic and fun fish crafts and recipes. You'll find ten of our favorites below.
Fish Crafts and Recipes
1. Paper Plate Aquarium – Turn a paper plate, colorful paper, and some cereal into a really cool aquarium that's filled with fish.
2. Goldfish Ice Cream Cone – Use homemade no-churn orange ice cream to create this adorable treat that looks like a goldfish!
3. Tissue Paper Ocean – Make a pretty ocean scene using nothing but tissue paper, construction paper or cardstock, and some drops of water.
4. Cardboard Tube Fish – Decorate empty cardboard tubes into a sea of colorful fish. You can base them on real fish or make up your own!
5. Mixed Media Rainbow Fish – This stunning fish starts with drywall compound. See how easy it is to make!
6. Bottle Cap Fish – Use bottle caps or other plastic lids from the recycling bin to make an adorable ocean scene.
7. Bouncy Ball Stamped Puffer Fish – Kids will love making a pufferfish by stamping with a bouncy ball.
8. Mason Jar Aquarium – Make a pretend aquarium using a mason jar. It looks so realistic!
9. Scrap Wood Mosaic Fish – Can you believe this gorgeous fish started as a scrap of 2 by 4? It's true!
10. Rock Fish Pond – Create a fish pond filled with colorful textured fish made from rocks.
Be sure to check out the rest of the fish crafts and recipes we have at Fun Family Crafts!