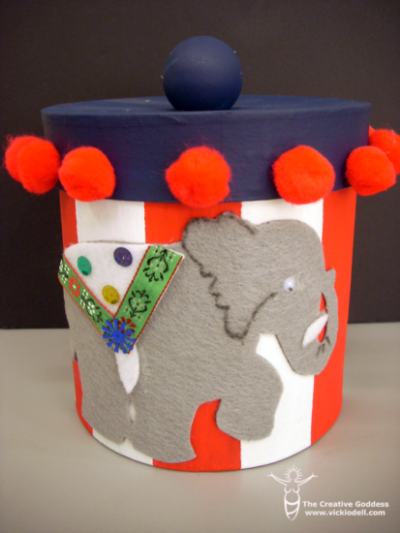 Elephant Treat Container
Do you ever feel hungry? Hungry like an elephant? Well, here is a fun container for all of your elephant treats!
Supplies:
Paper mache container
Paint – Red, White and Blue
Grey felt
Black marker
White felt
Red Pom Poms
Wood knob
Sequins
Decorative Trim
Painters tape
Foam brushes
Glue
Paint the base of the paper mache box white and the lid blue. Also paint the knob for the top of the lid blue.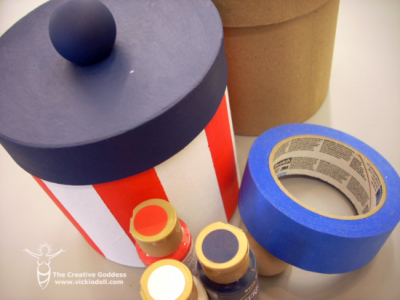 Use painter's tape to mask off stripes. Paint the stripes red.
Use the elephant pattern to cut out the elephant. Following the photo, decorate the elephant. Glue pom poms to side of the container lid. Glue the knob to the lid.
About the crafter
Vicki O'Dell "The Creative Goddess" is a professional designer, presenter, teacher, social media marketer, and writer specializing in the craft and creative lifestyle industries. Vicki has created for craft industry catalogs, trade shows, retail advertising, store displays, trade websites, art and craft fairs and blogs. Her interior design work has been on television for DIY, HGTV, and Public Television. She has also done behind the scenes video work for Office Max, The Ohio Lottery and others.