Elephant Appreciation Day falls on September 22nd, but who needs a specific date to appreciate the grandeur of the elephant? Celebrate these majestic animals by making an elephant craft! Here at Fun Family Crafts, we've gathered all our favorite pachyderm projects for you to enjoy.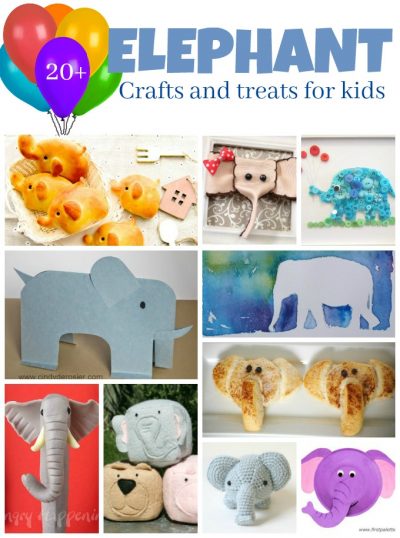 Below are 10 of our favorite elephant crafts. You can see all our elephant crafts here.
Elephant Crafts for Kids
1. Paper Pachyderm – This standing elephant is made from a single sheet of construction paper. It's a quick and easy elephant craft to do with school-age children.
2. Elephant Ribbon Brooch – Turn a ribbon into an adorable accessory that girls will love to wear. This easy craft for kids is inexpensive and quick.
3. Watercolor Elephant Silhouette – Create beautiful silhouettes of elephants or other animals with watercolors. It's a perfect way to remember a special trip to the zoo, a wild animal park, or other animal encounter.
4. Button Elephant – Make a beautiful elephant wall hanging out of buttons! There are instructions for two different designs as well as ideas for other button projects.
5. Baby Elephant Ham and Cheese Bread – This adorable elephant bread has a surprise inside – it's filled with ham and cheese! It's easy to do, so cute, and delicious, too.
6. Elephant Pretzel – Transform a chocolate-dipped pretzel into a magnificent elephant. There are ideas for seven different jungle animals.
7. Crochet Amigurumi Elephant – Crochet this adorable amigurumi elephant using silver blue yarn.
8. Elephant Bread – These cute cinnamon sugar elephants couldn't be easier to make. They start with canned biscuit dough.
9. Elephant Bean Bag – Use the printable pattern to sew the cutest elephant bean bag! While you're at it, make the pig and bear too. This trio of adorable animals makes such a fun sewing project.
10. Paper Plate Elephant – It's so easy to turn a paper plate into an elephant. This is a fun project for even the youngest of crafters.
Check out all of the elephant crafts here!