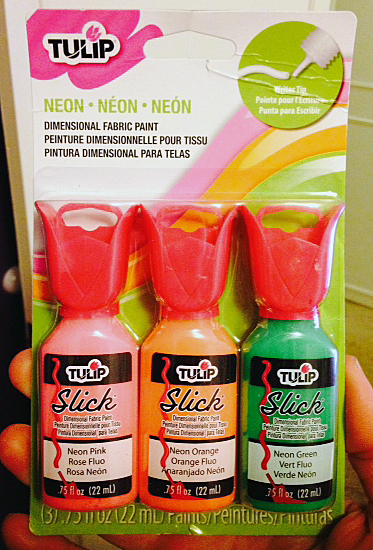 THIS GIVEAWAY HAS ENDED.
Woot! You found prize #3! I hope you are discovering a little about my sites and how to get around them with these fun giveaways. Hopefully you liked a lot of what you saw and will follow along from here on out too!
This is bonus prize #3 from the Crafts by Amanda Facebook Flash Giveaway. This prize is a 3 pack of Tulip Slick Neon Dimensional Fabric Paint. To enter to win this prize, please leave a comment with a fun wearable project you've done in the past or would like to do.
Giveaway will end on Wednesday, January 22, 2014 at 6pm CST. One winner will be selected at random for EACH of the prizes and will be announced (and tagged) in another post on my Facebook page. Winner must have a U.S. shipping address.
This post contains an Amazon affiliate link