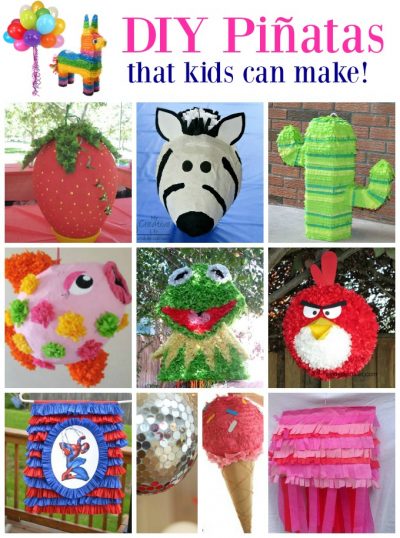 If you've never tried making your own pinata, you'll be surprised how easy it can be! If you are a beginner, start with a balloon-shaped pinata, like our Strawberry, Tropical Fish, Zebra, or Ice Cream Cone. Once you've mastered the basics, you'll be ready to move onto slightly more difficult pinatas. Here at Fun Family Crafts, we've gathered dozens of kid-friendly tutorials for pinatas, including pinatas you break open with a bat, pull-string pinatas, mini pinatas, and even pinata cookies and cakes! Below are ten of our favorites.
DIY Pinatas for Kids
1. Strawberry Pinata – Because a strawberry is shaped like a balloon, it is one of the easiest paper mache pinatas to make and a great choice for beginners.
2. Cactus Pinata – Cardboard and crepe paper become a festive cactus pinata that's a great addition to any fiesta!
3. Spiderman Paper Bag Pinata – If you want quick and easy pinata, a paper bag is the way to go! This version doesn't have any paper mache and thus no drying time.
4. Tropical Fish Pinata – An under-the-sea party will feel even more special with a tropical fish pinata you make yourself!
5. Disco Ball Pinata – Celebrate a special event with a disco ball pinata. It's sure to be a hit!
6. Kermit Pull-String Pinata – This pull-string pinata is shaped like the lovable Kermit the Frog. It's a must for any Muppets fan.
7. Angry Birds Pinata – Use a round balloon, cardstock, and tissue paper to create a pinata of your favorite Angry Bird.
8. Zebra Pinata – Celebrate a zoo-themed birthday with a homemade zebra pinata. This is another beginner-friendly pinata.
9. Ice Cream Cone Pinata – Who wouldn't want an ice cream cone pinata at their next party? Start with a paper lantern and half the work is done for you!
10. Valentine Pinata – This basic pinata can be adapted for any theme or holiday. Just change out the colors and you'll have the perfect pinata.
Be sure to look at the rest of the kid-friendly tutorials for pinatas! You won't want to miss the mini pinatas or the edible pinata-style cookies and cakes.