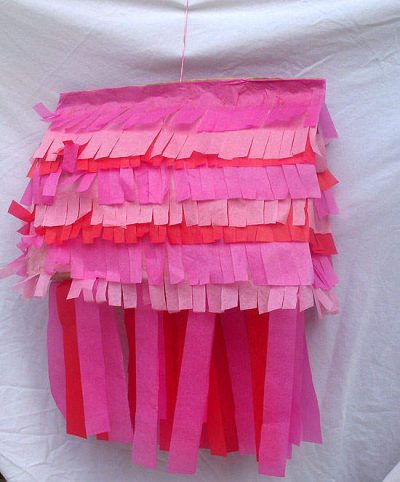 Valentine Pinata
This pretty pink pinata is great fun for Valentine's Day. Change out the colors to make it suit any theme or occasion. It's so easy to do!
What You Need:
Brown paper grocery bag
Wrapped candies
Tissue paper: light pink, pink, and red
Sturdy string
Scissors
Stapler
Craft glue
Shipping tape
How to Make It:
Fill the bag halfway with candy and trinkets.
Fold over the top of the bag and staple it shut.
Poke a hole through the top of bag for the string. Run string through (double it up for strength). Tie a  secure knot and completely cover the hole with tape.
Cut long strips of tissue paper (from all colors) and glue or tape the strips to the bottom third of the bag, hanging down. The strips should hang down about 6 inches below the bottom of the bag.
Cut 4-inch wide strips of tissue paper (all colors). Fringe the strips by cutting 1/2-wide slits along one of the long sides. You can stack the strips and fringe multiple pieces at once to save time.
Glue a fringed strip to the bottom of the bag, covering the hanging strips. Add a second fringed strip in a different color, placing it about an inch higher on the bag so that the fringed strips of the second strip partially cover the first. Alternate colors, overlapping strips until you reach the top.
Repeat steps 4 through 6 on the other side of the bag.
This project was created by Amanda Formaro, originally for Kaboose/Spoonful.