This post brought to you by dio. All opinions are 100% mine.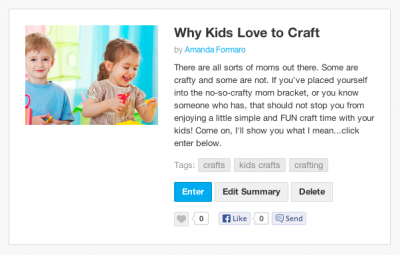 Are you a crafty mom? Even if you're not, you can still craft with your kids! I want to show you a new site called dio. It's a cool new creative and social platform that allows you to make and explore unique places based on, anything you want! I've created a Dio place to share several ideas with you for crafting with the kids, and they don't require a degree from Martha University.
Here's the Dio place I was talking about. Just click the Enter button to go into the room.
This will bring you into the first room, which is called Colors. In that room you can explore use the links on the left under "In This Room". Try it!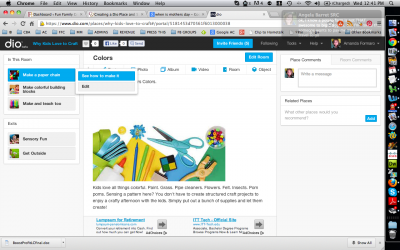 If you click on "Make a paper chain" on the left, a pop out menu comes out, now click "See how to make it". Once you do, the screen scrolls a bit and shows you that option.
This can be done with all the links on the left within each room.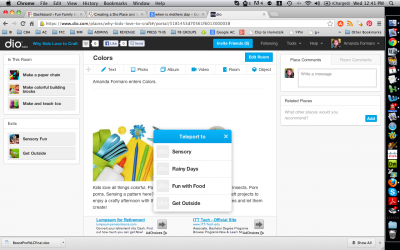 There are a couple of ways to move through the rooms. I have added exits from each of my rooms to guide you through a tour. However, I could have created exits to every room so a viewer could hop around wherever they wanted at any given time. That's completely up to you! You can also use the Teleport feature under the Tools tab to hop between rooms.
Within each room you can play around with adding different objects, the most common one being "look", which allows a view to see addition components that you've added to each room. There are others though, even interactive objects, so be sure to play around a bit!
I like that there's a social aspect to it, and views can leave comments on the right side of each room. It's great that you can connect with Facebook, eliminating the need to remember yet one more login and password! You can even have co-creators in your rooms. So if you want to team up with someone you can. For example, let's say you are making a Dio space to save ideas for your vacation to Venice. You and your spouse to can each add to the rooms!
Giveaway!
So now it's your turn! (Official Contest Rules) Head over to Dio and create your own place and you could win a $100 Amazon gift card! Come back and leave a comment here with the email you signed up with. (To win, you must be an active dio user!)
You will probably want to Like dio on Facebook as well!
Go now! Create and comment, can't wait to see your places! Oh, and there are some tutorials as well.
1) Check out their You Tube tutorials as well if you need a visual guide.
2) You can also use the visual guide built in to Dio. Once you have created your place you should see a Tools menu at the top. Click that and choose Show Walkthrough for a step by step guide!