Dinosaur Day is in May, Archeology Day is in August, and International Dinosaur Month is in October, but anytime is the right time for dinosaur and fossil crafts! We've collected over 30 dinosaur and fossil crafts, recipes and games that are fun for kids of all ages.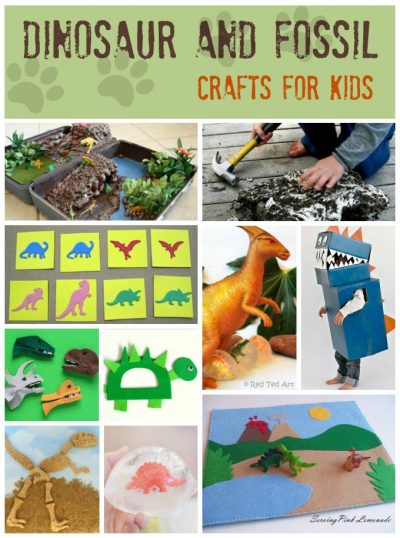 Here are 10 of our favorite dinosaur and fossil crafts and recipes.
Dinosaur and Fossil Crafts and Recipes for Kids
1. Clothespin Dinosaurs – Clothespins make fun dinosaurs that chomp, chomp, chomp! The tutorial has patterns for four different dinosaurs.
2. Rice Krispie Treat Dinosaur Bones – This incredible dessert is perfect for any dinosaur-themed party. Believe it or not, it's really easy to make!
3. Letter D Dinosaur -Turn a capital D into an adorable dinosaur! This fun craft is perfect for "D" Week or during a unit on dinosaurs.
4. Dino Land Suitcase – Repurpose a small suitcase to make an amazing dinosaur play space. Best of all, it closes shut for easy under-the-bed storage.
5. Dinosaur Egg Soap – Get kids excited to wash their hands with these fun Dinosaur Egg Soaps. They have to wash their hands to release the toy!
6. Dino Fossils – Create a super fun fossil dig right in your backyard with Plaster of Paris and plastic dinosaurs! Kids will love digging, hammering and chipping away to find the dinosaurs.
7. Cardboard Dinosaur Costume -Make this easy dinosaur costume from three boxes and some paint. It's great for Halloween, a dinosaur-themed party, or everyday pretend play.
8. Dinosaur Matching Game – Use craft foam stickers and sheets to make a dinosaur matching game that's fun for everyone from toddlers on up! It's very easy to do.
9. Dinosaur Ice Eggs – These dinosaur ice eggs are great fun on warm days. Crack open the ice to reveal the dinosaurs inside.
10. Dinosaur Play Mat – The prehistoric scene on this mat is the perfect background for lots of dinosaur play. This small felt mat is easy to take when traveling and provides hours of quiet play.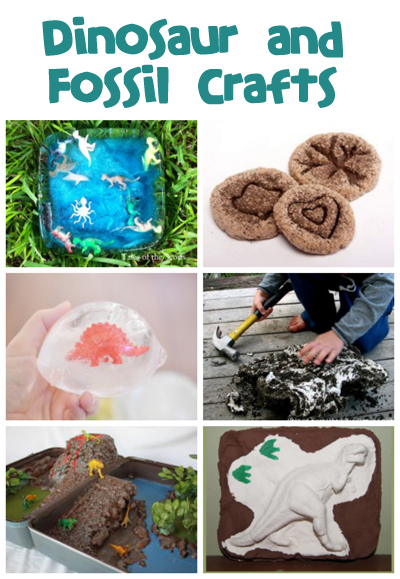 Be sure to check out all the fun and creative dinosaur and fossil crafts and activities!