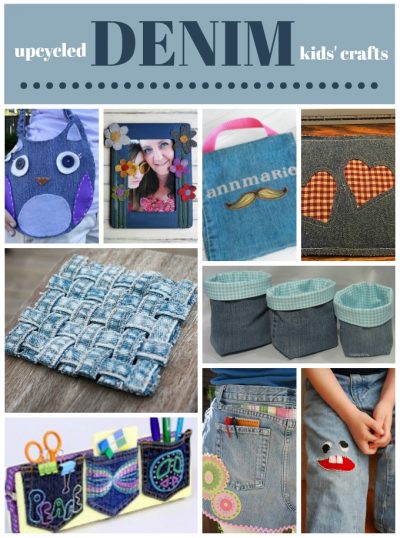 National Denim Day, started by Lee Jeans, is celebrated the first Friday of October each year to raise funds for breast cancer research. In fact, it's been the largest fund raising effort each year for this cause, with proceeds going to the American Cancer Society. You can find all sorts of denim crafts for kids here at Fun Family Crafts.
Denim Crafts for Kids
1. Woven Jean Seam Coaster – Cut away the seams from old jeans to create this super cool woven coaster.
2. Reverse Applique Denim Potholder – This easy sewing project is a fun way to give new life to an old pair of jeans.
3. Denim Lunch Bag – After making cutoffs from worn-out jeans, use the pant legs to make personalized lunch bags featuring iron-on letters and decorative patches.
4. Denim Fabric Basket – Upcycle a favorite pair of old jeans into handy little baskets in a bunch of different sizes.
5. Jeans Pocket Organizer –  Turn those outgrown jeans into a cool organizer that's perfect for a homework desk.
6. Monster Jeans Patch – Don't use an ordinary patch when you can fix a pair of jeans to look like a friendly monster!
7. Denim Owl Purse – Make an adorable owl purse using denim from a pair of old jeans. It couldn't be cuter!
8. Colorful Denim Flower Frame – Create a gorgeous frame using painted or dyed denim, recycled from old jeans.
9. Denim Apron – Keep craft supplies close at hand with this fabulous, functional denim apron. There are three roomy pockets.
10. Recycled Denim Bracelets – Transform old denim pants into an awesome bracelet! This easy project is fun for a birthday party activity or at a slumber party.
Be sure to check out all of the fabulous denim crafts for kids that we've gathered!