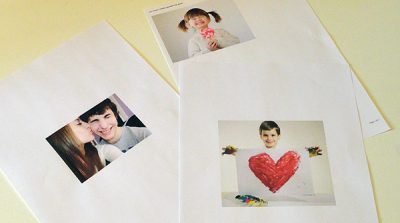 Some might think that a craft you make with your preschooler would never fly with your teenaged kids. Same holds true for teen driven projects, you wouldn't dream of presenting that sort of impossible challenge to your 3 year old. However, you can adjust supplies and adapt your method to make a single craft project grow with your children.
Consider the Supplies
Let's take a simple photo card as our first example. A preschooler can fold a piece of construction paper, cut out a picture, and use a glue stick to attach it to the paper making a fun and simple card. The key word here is simple. Preschoolers need simple ideas and few supplies to keep them from feeling overwhelmed or inadequate, and to allow them the opportunity to finish a project in a short period of time. This equals gratification.
A school aged child needs more of a challenge however. So the same project can be adjusted to fit their age group. For this photo card example, I'd suggest using card stock in lieu of construction paper. Instead of just cutting out the photo and simply pasting it onto the paper, older kids may want to embellish their cards a bit. They can choose stickers, foamies, glitter, paint, colored pencils and markers, and several other embellishments to dress up their greeting.
A teenager will want not only more of a challenge, but more sophistication for their project. Colorful patterned scrapbook papers layered with card stock is ideal for the young adult. Scrapbook embellishments and word stickers fit in more with the teen crowd and maybe even manipulating their photos in photo editing software would be a fun option. Frames are great for teens, a way to display photos of their friends and family, and they allow them to express their personality as well.
Altering the Method
While small children should use safety scissors and cut things into large and manageable pieces, school age children and tweens alike can cut things into smaller pieces creating more intricate designs. A teens' dexterity is developed so fine lines and small pieces are more appropriate.
For a craft that requires painting, water colors are great for little ones, tempura is a great option for young school aged kids, where acrylic craft paint works better for tweens and teens. Small children can manipulate chubby crayons easily, while tweens and teens are completely comfortable with colored pencils and the accuracy of fine point markers.
Choosing Surfaces & Supplies
For little ones the options are easy. Craft foam and construction paper are ideal surfaces for small hands. Keep the supplies to a minimum and allow kids to create on their own. Embellishments that are great for little ones include precut foam pieces, cotton balls, large pom poms, chenille stems and stickers.
School aged kids and tweens prefer working with card stock and patterned scrapbook papers. Art paper is also a great surface, but as kids get older their surface options can expand greatly. Think foam journals, recycled cereal boxes, empty vegetable cans, and cardboard tubes. Embellishments that this age group enjoys are stickers, buttons, craft jewels, sequins, beads, and glitter.
When your kids hit the teens let them delve into the scrapbook papers and card stocks even more, and expand their surfaces to frames, wooden boxes, and even canvas. Embellishments may become more sophisticated, but buttons and silk flowers are a favorite, as are fancy beads and decorative scrapbook stickers.
How to Adjust a Craft
When you look at a craft project try to imagine it in its raw form. Take it apart in your head, then substitute in age appropriate materials according to your own child. Making a decorative decoupaged pot might not be the perfect project for your preschooler, but decorating a foam cup can result in a similar project your child will love. And while a construction paper frame with a handprint and poem might not appeal to your teen, a scrapbook page using a poem she has written and printed in the font of her choice will. Think outside the box and let your creativity flow!
[This article written and contributed by Amanda Formaro, Crafts by Amanda]
Below is a list of craft parties I link to each week. There's lots of creative talent out there, check them out 🙂