Turn those piles of old CDs and DVDs into cute kids' crafts. We've gathered over 50 ideas for fun projects using this common supply. You'll find clever ideas for kids of all ages.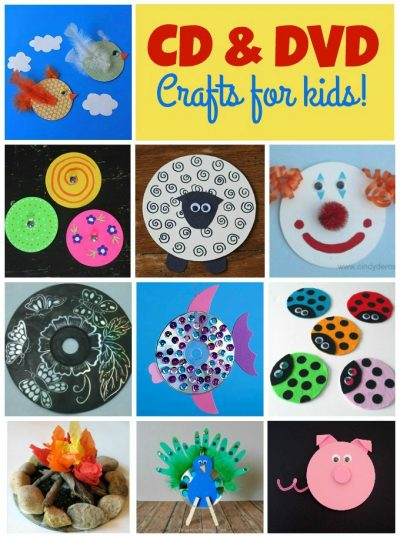 CD and DVD Crafts for Kids
1. CD Scratch Art – Use an old CD to create beautiful scratch art. Hang the completed artwork on the wall, use it as a coaster, or dangle it as an ornament or sun catcher.
2. CD Campfire – Create a miniature campfire at a Scout meeting, a camping-themed party, or even while camping with the family!
3. CD Pig – Turn an old CDs and other recyclables into a pink pig. It's easy to do and costs practically nothing.
4. CD Peacock – This clever craft features a CD and a child's handprints. They couldn't be cuter!
5. CD Clowns – There's so much room to be creative with this fun CD clown craft. Use paints, ribbons, yarn, pom poms or anything else you have on hand. Each has its own unique personality.
6. Colorful CD Birds – Use patterned paper and feathers to make colorful birds from old CDs. You can't help but smile when you see them!
7. CD Ladybugs – Cover old CDs with felt to create these colorful ladybugs, which are sure to spread some cheer.
8. Sequined CD Fish – Use an old CD to make a hanging aquarium of sparkling fish that will catch the light in every part of the house.
9. Recycled CD Spinners – These CD spinners will entertain kids (and adults!) of all ages. Part of the fun is decorating them however you like.
10. Recycled CD Spring Lamb – This adorable lamb is easy to make and requires only a few simple supplies. Give it a try!
Be sure to look through all the CD and DVD craft tutorials to find more crafts you will love!