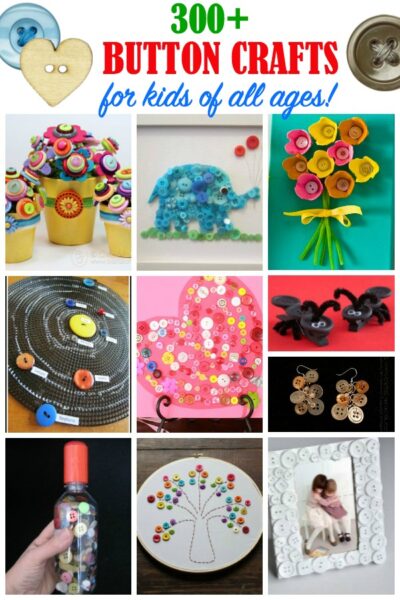 Looking for button crafts? Maybe you've discovered the packages of colorful button bags at the craft store, or perhaps you've been collecting them over time. They are available practically everywhere, including discount department stores, dollar stores, thrift stores and garage sales. You can buy them online too, in bags of assorted buttons
as well as buttons in one color or shade
.
We've collected over 300 button crafts for kids that use buttons as the main supply or as embellishments. Find the entire collection of button crafts here, or check out ten of our favorites below.
Button Crafts for Kids
1. Dangling Antique Button Earrings – Create a unique pair of earrings using your favorite buttons. This is a great project for a girl who would like to try making jewelry for the first time.
2. Egg Carton Bouquet – Buttons are just right to use as the centers of egg carton cup flowers. So pretty!
3. Button Topiary – Buttons aren't just for the centers of flowers. Layer them to make flowers, then arrange them into this gorgeous topiary.
4. Embroidery Hoop Rainbow Tree – Introduce kids to hand sewing with this embroidery hoop project. An old sheet and colorful buttons become a pretty rainbow tree!
5. Button Elephant – Layer buttons to make this adorable elephant wall hanging. There are instructions to make an elephant couple, a slug and a hippo, or you can design your own shape.
6. Button Valentine Heart – Use buttons to create an eye-catching heart decoration to display for Valentine's Day or year-round.
7. Homemade Find It Toy – This fun toy is filled with buttons and an assortment of other small items from around the house. It will keep your child entertained during car rides or long waits as they search for the hidden things.
8. White Button Picture Frame – White buttons turn an ordinary frame into something special! This makes a wonderful gift for practically anyone.
9. Solar System with Button Planets – Sew buttons to plastic canvas to make the coolest solar system model ever. This is a great project to accompany a study of the planets.
10. Ant Tablecloth Clips – Solve that classic picnic dilemma of a blowing tablecloth with these awesome ants tablecloth clips. So cute!
This is just the beginning! You can find lots more inspiration by checking out all 300+ button craft tutorials at Fun Family Crafts.