This post brought to you by Astrobrights Papers by Neenah Paper. All opinions are 100% mine.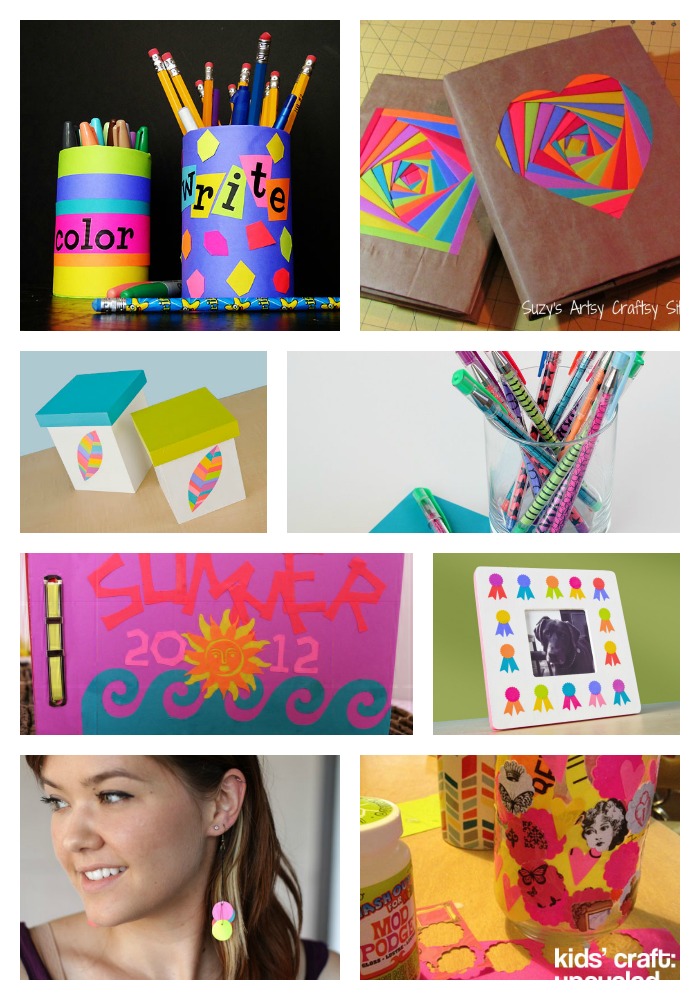 August officially marks back to school season. There have been plenty of back to school crafts hitting the internet lately, but the ones that have really caught my eye are the ones testing out Astrobrights paper. The colors are vibrant and beautiful and full of fun!
Aside from craft projects I can think of plenty of ways to ring in the new school year using these papers. Whether you are a parent, a teacher or a child, here are some fun ways to use Astrobrights as your kids head back to school:
1) PTA/PTO – Are you involved? As parents we've all received the notes and flyers from school. Usually they are on white paper, but what if you really wanted a certain event to get noticed? Using a bright, neon color to announce a fund raiser or school event is a great way to grab parents' attention.
2) Sports – If you are a coach for your child's soccer team, or maybe the team mom for football, try these bright sheets for your announcements. You could make team flags using Astrobrights paper and wooden dowels that parents and fans can wave at the games!
3) Homework Projects – Use these colorful sheets as covers for homework projects, or incorporate them into homework assignments that require some creativity. Great for book reports and science projects!
4) Chore Chart – Make chores fun with colorful assignment tags. maybe you use the magnet system on the fridge, these are perfect for plat marble magnets that are eye catching. Decoupage these bright colors onto jumbo craft sticks and fill a jar with them, then let kids "draw" their chore for the day. You could even color code a homemade chore chart with these beautiful papers.
4) Crafts – Ahh crafts, of course! Below you'll find links to several back to school projects (pictured above) using Astrobrights paper. Hopefully they'll give you some inspiration as well!
Oh, and I almost forgot, Astrobrights is hosting a fabulous sweepstakes. You can support your local elementary school by entering the "Give a Brighter Year" sweepstakes sweepstakes. You can win a cash prize and school supplies valued at $30,000 for the school of your choice! We all know that there are children who go to school without the proper supplies, many in our own communities. Help out, be sure to enter! Visit Astrobrights on Facebook for details.
How can you and your family get creative together and celebrate the back to school season?