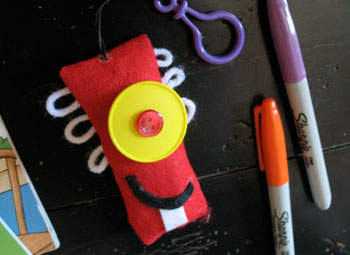 Backpack Monster
This monster will look adorable hanging from a backpack when it's time to head back to school. It's easy to make and really shows off a child's creativity and personality!
What You Need:
3"x 9" piece of red felt
Large white or light colored button
Yarn
Sewing needle
Instant grab glue
Scissors
12" length of jewelry cord
Backpack or keychain clip
Small red button
Scrap of each black and white felt
1 tablespoon dried rice
Fold-top sandwich baggie
2 cotton balls
How To Make It:
Sew the large button onto the red felt strip, about 2" from the top using yarn and sewing needle.
With the button facing up, pipe instant grab glue along the length of the red felt, on both the left and right sides. Stop piping near the top of the felt, in line with the top of the button. This will leave about a 2" flap at the top without glue on it.
Cut 6 pieces of yarn into 2" lengths. Fold one of the pieces in half to create a loop and press the open ends into the glue line next to the large button. Repeat this process, gluing 3 on each side.
Take the bottom of the felt and fold it up toward the top, over the button, but leaving the unglued flap at the top uncovered. Press the sides together and let it dry for several hours.
Meanwhile, fold the piece of jewelry cord in half, then insert the looped end into the ring of the backpack clip. Thread the open end of the cord through the looped end of the cord and pull tight.
When the felt has dried completely, turn the felt inside out by inserting your thumb into the closed end of the felt and pushing carefully.
Place a tablespoon of dried rice into a fold-top sandwich baggie and wrap up, then secure bag with tape. Insert the small bag of rice inside the felt monster, add a cotton ball or two to fill.
Glue the small button to the center of the large button to create the eye.
Cut a small square from white felt for a tooth and a small smile shape from black felt and glue to your monster.
Thread the end of the jewelry cord onto a child safe sewing needle and thread through the red felt flap above the large button. Remove needle and tie the end into a knot, trim the end.
Fold the flap over to the back and secure with instant grab glue. Add some glue to the hole at the top where the jewelry cord meets the felt.
This project was created by Amanda Formaro, originally for Kaboose/Spoonful.