In the United States, Arbor Day is celebrated on the last Friday in April every year. There are numerous countries who observe Arbor Day or a similar holiday on varying dates, depending on their climate. Each year the public is encouraged to plant a tree on Arbor Day, which all began in 1872 when one million trees were planted in one day! Below are ten of our favorite tree crafts. Be sure to check out the rest of the 150+ tree-themed crafts.

Tree Crafts for Kids
1. Letter T Tree – This 'T is for Tree' craft is great for T Week or as a part of a study of trees. This fun project uses materials from the recycling bin.
2. Money Tree – If you ever wished that money grew on trees, this is the craft for you! The "dirt" is actually pennies and the "leaves" are hiding coins and currency.
3. Grape and Pretzel Tree Snack – This healthy snack is a fun way to introduce the parts of a tree to young children.
4. Button Tree – Use felt and buttons to create a beautiful button tree, perfect for spring. Sew them in place, or use hot glue for a quick, no-sew option.
5. Moss Woodland Cookie Display – This moss-covered dessert display is made with foam, so it's perfect for treats on sticks. Use it to serve cookies, cake pops, and more.
6. Chocolate Popcorn Trees – These edible trees are made from candy melts, popcorn and candy buttons. Yum!
7. Yarn Tree Stamp – Create a cool tree stamp using yarn and white glue. Then use the stamp on cards, gift wrap, scrapbook pages, or even clothing.
8. California Redwood Forest – Learn about nature through art with this crafty version of a beautiful California redwood forest.
9. Embroidery Hoop Rainbow Tree – This pretty tree provides kids with lots of practice sewing on buttons and making stitches.
10. Puzzle Piece Tree – Turn a brown sack and puzzle pieces into a beautiful tree. The example shows a fall tree, but you can substitute green leaves for springtime.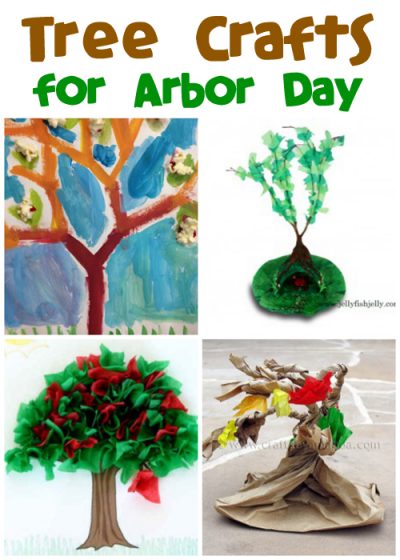 See all 150+ tree-themed crafts here!