Advent is a time of preparation that begins four Sundays before Christmas. Many mark this special time of year with countdown calendars and wreaths. Here at Fun Family Crafts, we've gathered some of the best Advent projects for kids.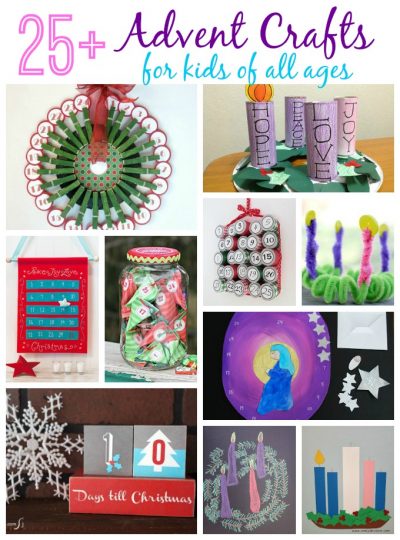 Advent Crafts for Kids
1. Advent Wreath Art – This simple drawing project looks stunning on a black construction paper background. It's a wonderful project to pair with a discussion of the meaning of Advent and symbolism of the wreath elements.
2. Christmas Countdown Blocks – Count down to Christmas with this stylish set of blocks that mark the number of days remaining. Make the calendar once and reuse it year after year.
3. Peace, Joy, Love Advent Banner – Move the star from day to day, or tuck candy or small gift into each pocket of this Advent calendar to count down to Christmas. It makes a beautiful addition to your holiday decor.
4. Additive Advent Calendar – Many Advent projects are about removing something, like a link from a chain or a treat from a calendar. With this version, kids add an element to the picture each day, concluding with the baby Jesus on December 25.
5. Cardboard Tube Advent Calendar – Put small gifts inside cardboard tubes, then decorate them to make a fun and interactive Advent calendar. No one will be able to resist breaking the paper to discover the surprise of the day!
6. Printable Advent Wreath – This simple Advent wreath is a great project for a Sunday School class or other group to make together. It's inexpensive and requires only basic craft supplies.
7. Advent Countdown Jar -Instead of laying out treat holders like a calendar, group them all together in a jar and add some colorful lights. Then top it off with a fun poem.
8. Paper Advent Wreath – Three-dimensional Advent wreaths are wonderful, but if you don't have room on a tabletop for one, make this two-dimensional version. Even the youngest of children can be trusted to "light" the candles on this wreath.
9. Repurposed Record Advent Calendar – Turn an old 45 record into a festive Advent calendar. Simply remove one clothespin each day, or have your child turn in each number in for a small gift or a choice from a list of fun family activities to do that day.
10. Pipe Cleaner Advent Wreath – Prepare for Christmas with this child-friendly Pipe Cleaner Advent Wreath. It's easy to make and inexpensive for a group, such as a Sunday School class.
Be sure to check out the rest of the fabulous Advent crafts for kids!