Egg cartons are a classic crafting material and for good reason – they're versatile and you almost always have one on hand. We've gathered more than 75 egg carton crafts that are a lot of fun to make. Learn how to create lobsters, school buses, flowers, jellyfish, and dozens of other things. Give one (or more) of these fun and easy crafts a try!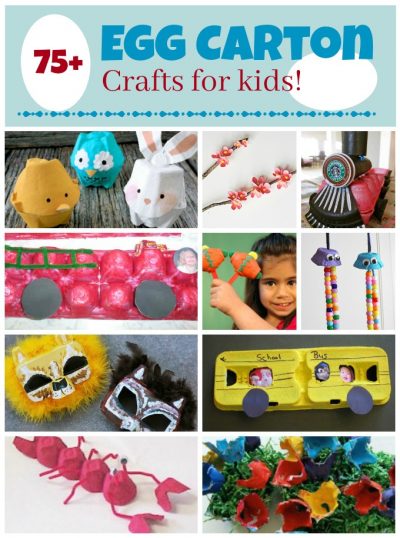 Below are 10 of our favorites, but you can find all 75+ egg carton crafts here.
Egg Carton Crafts for Kids
1. Egg Carton Flower Garden – Enjoy beautiful flowers year-round with this pretty flower garden made from egg cartons and pipe cleaners. It's a fun activity for even the youngest of crafters.
2. Egg Carton Animals – Follow the directions to turn egg cartons into adorable owls, bunnies and chicks. Then use your creativity to think up other animals to make using egg cartons!
3. Egg Carton Maracas – Put dried beans into egg carton cups to make your own maracas. These percussion instruments are so much fun to play!
4. Egg Carton Lobster – Turn an egg carton into the cutest crustacean you've ever seen. It's easy and inexpensive to do.
5. Egg Carton Cherry Blossom Branch – There are few things as beautiful as a cherry tree covered in blossoms. Use egg cartons to make your own version that you can enjoy any time of year.
6. Egg Carton Train – This incredible train is made entirely of recyclables! It starts with three egg cartons.
7. Egg Carton School Bus – Get ready to head back to school with this fun egg carton school bus. Personalize it by using your own school pictures as part of the project!
8. Colorful Jellyfish – Use egg cartons and pony beads to make an ocean's worth of jellyfish. These colorful creations are a lot of fun to make.
9. Egg Carton Fire Truck – Turn an egg carton into a bright red fire truck! This is a great craft to accompany a study of community helpers or emergency workers.
10. Egg Carton Mask – These masks look so fantastic that it's hard to believe they started as ordinary egg cartons! There's so much room for creativity when decorating your mask.