There are so many ways to use acorns in craft projects, especially for kids. Whether you have toddlers, preschoolers, or all the way up to teens, we've collected dozens of the best acorn crafts for all different age groups. Below we've listed ten of our favorites, but you can browse all 60+ acorn crafts for kids here.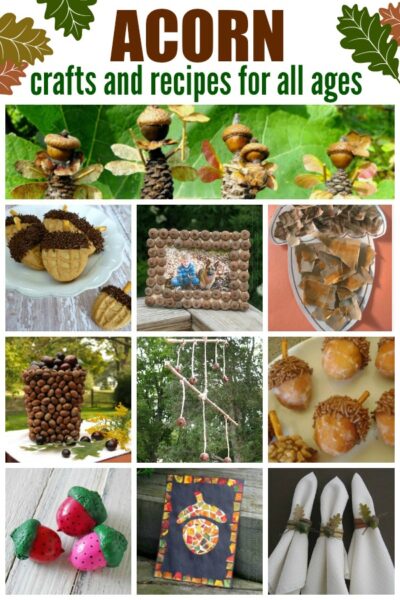 1. Acorn Frame – Gather acorn caps to make a festive fall frame to display your favorite seasonal photos.
2. Woodland Fairy Folk – Pinecones, acorns, maple keys, and fall leaves come together to make these whimsical fairy folk.
3. Torn Paper Mosaic Acorn – This torn paper project helps toddlers develop important motor skills. Not only that, it's lots of fun!
4. Strawberry Acorn Magnets – Collect acorns, then paint them to look like strawberries. They make the cutest refrigerator magnets!
5. Acorn Vase – This awesome vase positively screams, "Fall!" Take the kids on a nature hike to collect acorns, then create this vase together.
6. Acorn Mobile – Collect acorns and twigs, then use them to make a festive acorn mobile. Display it indoors or out.
7. Patchwork Acorn – Create a beautiful piece of artwork this fall. It starts with some fun finger painting!
8. Nutter Butter Acorns – Chocolate and peanut butter come together in this delicious fall treat that's easy to make.
9. Donut Acorns – Wow, are these good! Whip up a batch and watch them disappear.
10. Fall Acorn Napkin Rings – Turn acorns and empty cardboard tubes into napkin rings that look absolutely beautiful on a fall table.
These are just some of our many fabulous acorn crafts. Be sure to see the entire collection of acorn crafts here. Happy fall!