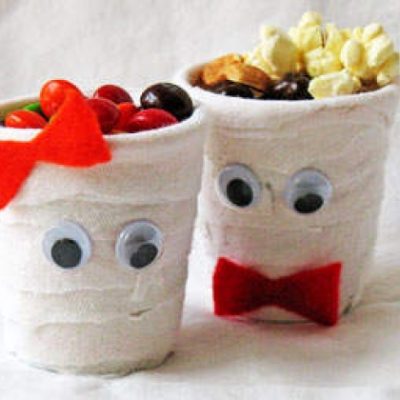 Yummy Mummy Treat Cups
For less than $5.00, you can make enough of these cute little yummy mummy treat cups as a kids' Halloween craft everyone will love! Fill these cuties with candy, gummy worms, popcorn, or whatever else you may have on the menu.
What you'll need:
Plastic or paper cups, bathroom sized
An old white t-shirt
Medium wiggle eyes
Felt, any Halloween color
Scissors
Glue stick
White craft glue
Helpful Tips:
Save old t-shirts, blue jeans and even boxer shorts for use in craft projects such as these.
Due to cotton's stretchy nature, strips will cut jagged not straight. This gives your mummy character!
How to make it:
Cut a small section from the t-shirt, depending on how many treat cups you will be making. Start with a section about 6" x 6". Cut that section into strips.
Use the glue stick to line one side of a t-shirt strip, then starting at the bottom of the cup, wrap around and press in place. Repeat until entire cup is covered.
Cut a simple bow from felt. For a "boy" cup, use white craft glue to attach the bow tie to the bottom of the cup. For a "girl" cup, glue the bow to the top of the cup.
Use white craft glue to attach wiggle eyes.
Fill with fun treats!
This project was created by Amanda Formaro, originally for Kaboose/Spoonful.