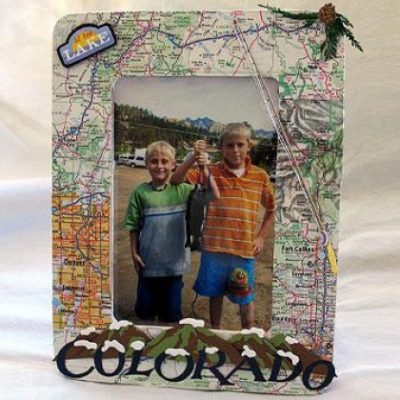 Vacation Map Picture Frame
Save old maps from your vacation to make this unique picture frame that doubles as a wonderful conversation piece.
What you'll need
Maps of your vacation route or area
Wood picture frame
White acrylic paint
White craft glue
Water
Paintbrush
Scissors
Scrapbook embellishments (stickers) relating to your trip
Acrylic sealer spray
How to make it
Remove glass from frame and paint the outer and inner edges of the frame. Let dry.
Cut sections of your maps. Lay sections over the frame to be sure you don't cut them too small. Overlap different sections to cover entire surface of frame. Once you have enough sections of the map to cover the entire frame, position them where you want and bend the excess map around the frame edge. This will create creases for you to trim with scissors. Trim the edges so that your map pieces fit perfectly onto your frame.
Put some white craft glue into a small dish and add enough water to thin it to painting consistency. Working with one section at a time, paint a thin layer of glue mixture onto a small section of the frame. Lay the map for that section down on top of the glue mixture and add a little glue mixture on top. Continue this process until all map pieces have been glued down.
Once all map pieces are dry, spray the entire surface with acrylic sealer.
Add scrapbook embellishment stickers to decorate. Replace the glass and insert your favorite picture.
This project was created by Amanda Formaro, originally for Kaboose/Spoonful.