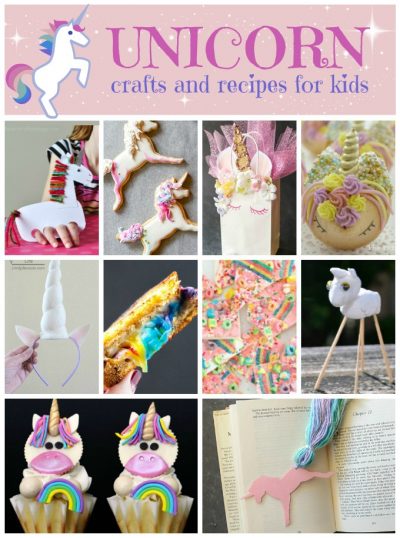 It's no surprise that one of the most magical of mythical creatures, the unicorn, is so popular. Symbolizing purity, strength, love, and enchantment, unicorns appeal to people of all ages and show up in many legends and fairy tales. In fact, they've been a part of literature for thousands of years! Unicorn Day takes place each year on April 9, but it's always a good time to celebrate this unique creature. We've gathered some of the best unicorn crafts and recipes. Below are ten of our favorites.
Unicorn Crafts and Recipes
1. Unicorn Fortune Cookies – Turn plain fortune cookies into stunning unicorns! This unique treat makes any occasion extra special.
2. Unicorn Horn Headband – This cute unicorn headband has a felt horn and ears. It's easy to make and great for pretend play, a costume, or for everyday fun.
3. Unicorn Puppet – If you love unicorns, you'll want to make this beautiful puppet. The mane and tail are made from colorful yarn.
4. Unicorn Gift Bag – Make gift giving even more enchanting by turning a plain white paper gift bag into this magical unicorn.
5. Rainbow Grilled Cheese – Kids will delight at the surprise when they bite into a rainbow grilled cheese sandwich! It's great fun for a unicorn-themed party.
6. Watercolor Unicorn Cookies – Create gorgeous unicorn cookies, iced in white royal icing, and then painted with watercolor-style shading and details.
7. Clay Unicorn Sculpture – Sculpt a cute little unicorn using air-dry clay. It's a fun project with no mess.
8. Rainbow Unicorn Bark – This Rainbow Unicorn Candy Bark is magically delicious and so easy to make for a birthday or other special occasion.
9. Unicorn Cupcakes – These stunning unicorn cupcakes are made with White Reese's Cups and edible candy clay. Give them a try!
10. Unicorn Bookmark – Make an enchanting unicorn bookmark with just cardstock, tape, and rainbow yarn. They make wonderful, inexpensive party favors.
Don't forget to check out the rest of the unicorn crafts and recipes!