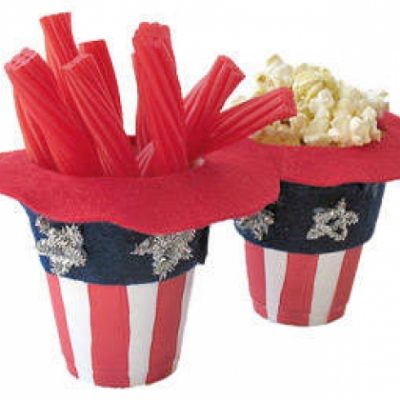 Uncle Sam Treat Holders
Decorate your table this Fourth of July with these adorable treat holders made to look like Uncle Sam's hat. Fill them with your favorite treats to give away as favors at the end of the party!
What you'll need
Styrofoam cup
Red and blue felt
Red paint
Paintbrush
Silver chenille stem
Scissors
White craft glue
Black marker
Heavy washer (optional)
How to make it
Place cup, open end down, on top of the red felt and trace with a marker.

Cut around the traced circle leaving a ¾" border around it.

Fold the circle and cut a slit in the center of the circle to allow your scissors to get in. Cut out the inside circle, leaving about a ¼" border around the inside of the trace line. Set felt circle aside.
Paint red stripes all the way around the outside of the cup, stripes should run up and down. Let dry completely.
Glue a heavy washer to the bottom of the cup to make it sturdier if you'll be using it outside (optional).
Cut a strip of blue felt about 1.5" wide. It should be long enough to wrap around the brim of the cup. Glue felt strip around the outside of the top of the cup.
Lay red felt circle on work surface with the black trace line facing up. Line the lip of the cup with white glue and press down onto black trace line. Let dry.
Turn cup over and place on work surface. Use silver chenille to bend into star shapes, and trim where needed. Glue onto the blue hat band.
When everything is dry, fill with treats.
This project was created by Amanda Formaro, originally for Kaboose/Spoonful.