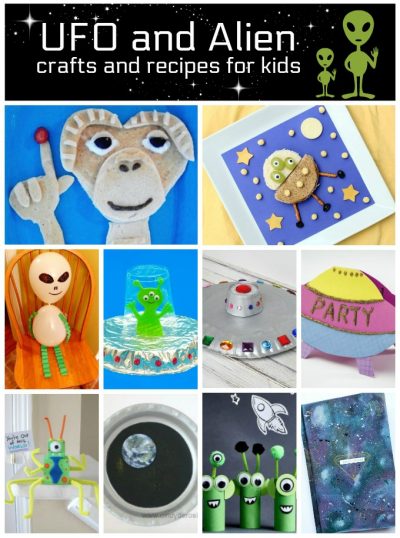 World UFO Day happens each year in July, so head over to our space crafts category and pick out some fun crafts to make! You'll find all sorts of aliens, space scenes, UFOs, and more. Below are ten of our favorites, but be sure to see all of the UFO and space crafts we've gathered.
UFO and Alien Crafts and Recipes
1. Cardboard Tube Aliens – Turn empty cardboard tubes into friendly aliens. Let your creativity go wild!
2. Paper Plate Flying Saucer – Create your own UFO with paper plates and craft jewels. Hang it from the ceiling with fishing line when you are done.
3. UFO Sandwich – Give your lunch a makeover, alien-style! It's easy to do and makes the meal extra fun.
4. 'You're Out of this World' Alien Robot – Tell someone just how special they are with this creative gift.
5. Recycled Alien UFO – Dig through the recycling bin to come up with the materials for this fun craft. There's so much room for creativity!
6. Alien Balloon Craft – Turn two balloons into a friendly alien for a space-themed party. So cute!
7. E.T. Breakfast – Make breakfast something special with pancake mix, a strawberry, a grape, whipped cream, and nutella.
8. Paper Plate Spacecraft – Imagine you're on a UFO looking at Earth with this fun and easy paper plate craft.
9. Galaxy Journal Cover – Transform a plain journal into something that's totally out of this world!
10. Spaceship Party Invitation – Impress the guests at a space-themed party with this unique invitation.
Don't forget to check out all of the UFO- and alien-themed activities at Fun Family Crafts!