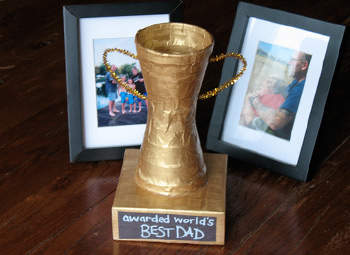 World's Best Dad Trophy
Make Dad a shiny gold trophy for Father's Day using foam cups. This trophy will show him that he's #1 in your heart!
Materials:
2 foam or paper coffee cups
5 inch square box
Masking tape
Gold pipe cleaner
Gold craft paint
Black construction paper, cut to fit on side of box
White paint pen
Scissors
Paintbrush
White craft glue
Steps:
Turn cups upside down and trim bottom lips to make them flush.
Glue the bottoms of the two cups together.
Tape the square box shut by covering the entire box with masking tape.
When glue on the cups have dried, wrap a piece of masking tape around the middle where the two cups meet.
Cut the pipe cleaner in half and insert into each side of one of the cups as trophy handles.
Cover cups completely with masking tape.
Paint masking tape on both the trophy and the box gold. Let dry.
Write "Awarded World's Best Dad" on the black construction paper with white paint pen. Glue to the front of the box.
Pipe white glue onto the bottom of the cup that does not have the pipe cleaner handles. Press onto the top of the box and let glue dry completely.
Fill with dad's favorite candy or treat!
This project was created by Amanda Formaro, originally for Kaboose/Spoonful.