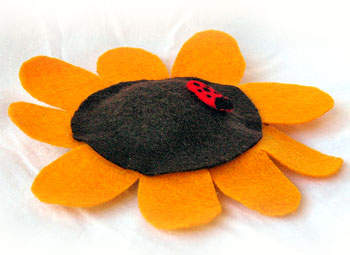 Sunflower Pillow
This cute little sunflower pillow is so easy to make. Display it on a bed or couch, or make a small version to use as a pincushion!
What You Need:
felt (dark brown, yellow-orange, and red)
fabric scissors
fiber fill
felt glue
black paint
Steps:
Cut two circles of dark brown felt in the desired size. Then cut 9 yellow-orange petals.
Glue the petals to one of the dark brown circles. Glue the second dark brown circle on top, leaving one area unglued for stuffing.
When the glue is dry, stuff the pillow with fiber fill. Glue the opening closed.
Cut an oval from red felt. Paint the ladybug's head and spots black. Glue the ladybug to the pillow.
This project was created by Amanda Formaro, originally for Kaboose/Spoonful.