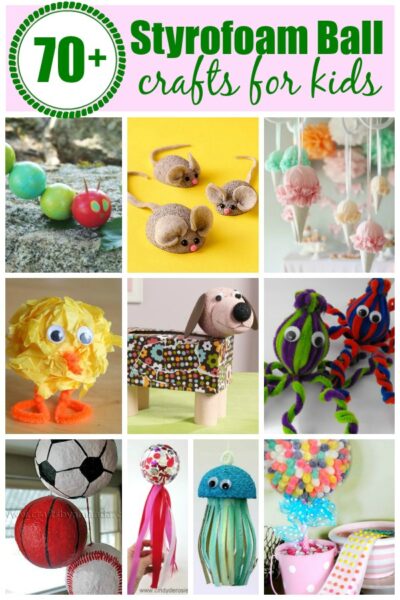 Styrofoam balls are a crafting staple because there is so much you can do with them! We've gathered over 70 of the best ideas for styrofoam ball crafts for kids. Read about ten of our favorites below.
Styrofoam Ball Crafts
1. Ruffled Ice Cream Cones – Turn styrofoam balls, fabric, and decorative paper into the cutest ruffled ice cream cones ever!
2. Sports Ball Ornaments – Make a styrofoam baseball, soccer ball, or basketball to hang from a rearview mirror, a backpack zipper, the Christmas tree, or anywhere else!
3. Pipe Cleaner Octopus – Wrap and twist your way to making the cutest pipe cleaner octopus ever. Choose your favorite colors and get twisting!
4. Mod Podge Tissue Dog – This clever canine project is all about recycling. Raid the recycling bin, add some stryfoam balls, and decorate to make your own pooch.
5. Gumdrop Topiary – Make a gorgeous topiary featuring gumdrops! This colorful creation is sure to delight.
6. Cardboard Tube Jellyfish – Transform a styrofoam ball, a cardboard tube, and a little paint into an adorable hanging jellyfish. So cute!
7. Decoden Princess Scepter – Any princess would love to have her own sparkly scepter. Make one together and enjoy!
8. Tissue Paper Chick – Create a cute little chick with tissue paper, a pipe cleaner, and a styrofoam ball. It's fun for Easter or anytime.
9. Foam Ball Very Hungry Caterpillar – Fans of Eric Carle's beloved book will enjoy creating their own version of the Very Hungry Caterpillar using foam balls.
10. Styrofoam Mouse Family – Make a whole family of adorable little mice by following the simple steps.
Don't forget to check out the rest of the styrofoam ball craft tutorials here at Fun Family Crafts!