Attention Star Wars fans! We've gathered over 30 Star Wars themed crafts for kids. You'll find everything from costumes to treats to toys and more. Yoda, R2-D2 Chewbacca, Princess Leia, Darth Vader… all your favorite characters are represented among our many Star Wars crafts. With Force Friday on September 4th and May 4th being dubbed "May the Fourth be With You" Day, we've got you and your pint sized Star Wars fans covered.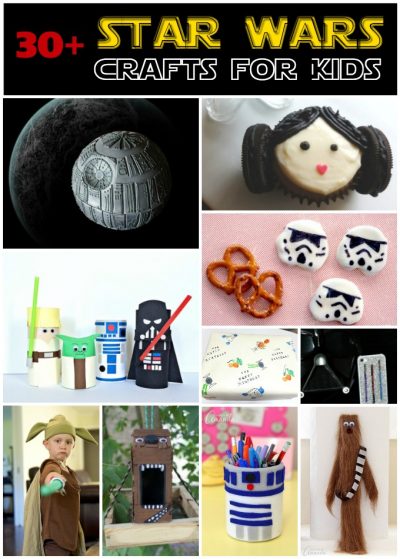 Here are 10 of our favorite Star Wars crafts. Be sure to check out all 30+ Star Wars crafts here!
Star Wars Crafts
1. Princess Leia Cupcakes – These adorable Princess Leia cupcakes are so easy to make! Oreos are a perfect way to represent her iconic hairstyle.
2. R2-D2 Pencil Holder – Star Wars fans everywhere will love this pencil holder that looks like that beloved droid, R2-D2! Kids of all ages will enjoy this Star Wars project.
3. Yoda Costume – This Yoda costume will ensure the force is with you this Halloween! This sewing project is quick and easy to do.
4. Stormtrooper Snacks – It takes just minutes to turn pretzels into awesome Stormtrooper snacks. These are a fun treat for a themed party, movie night, or other Star Wars event.
5. Wookiee Birdhouse – Help your Star Wars fan turn an empty milk or juice carton into a cute Wookiee Birdhouse. This is a great recycling project.
6. Cardboard Tube Star Wars Characters – Use empty cardboard tubes to craft all of your favorite Star Wars characters! There are instructions to make R2-D2, Yoda, Darth Vader and Luke Skywalker.
7. Death Star Cake – Star Wars fans will adore this chocolate Death Star cake. It takes time and patience to make, but the results are worth it!
8. Star Wars Fingerprint Gift Wrap – Make your own Star Wars wrapping paper using acrylic paints, finger prints and a pen. Star Wars fans will love it!
9. Paint Stick Chewbacca – Use a paint stir stick and faux fur to make the cutest Chewbacca ever! This project is so much fun to create.
10. Lightsaber Phone Case – Give your phone case a little Star Wars flair with adhesive gems! It's so easy to do and really cute.
You can see all 30+ Star Wars crafts here. May the Force be with you!