St. Patrick's Day isn't just about corned beef cabbage and green beverages. Kids love making shamrocks and rainbow crafts and recipes, and we've not even touched on those mischievous leprechauns! So if you're looking for some fun St. Patrick's Day crafts to make with the kids, kiss your lucky shamrocks, because you've found them! Here are ten of our favorites.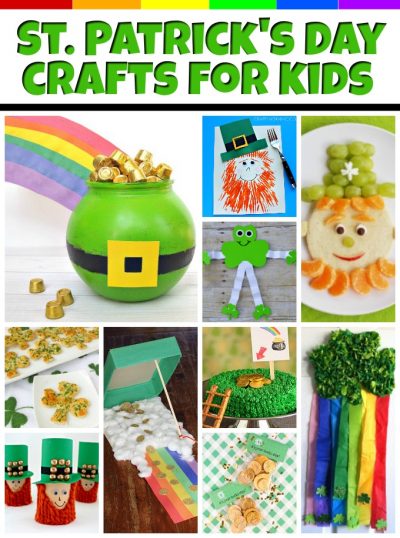 St. Patrick's Day Crafts and Recipes
1. Leprechaun with a Fork Print Beard – Create a cute construction paper leprechaun, complete with a beard you paint with a fork. It has so much personality!
2. Fishbowl Bucket o' Gold – Turn an old fishbowl into a bucket o' gold … candy, that is! Use it as a centerpiece or give it as a gift.
3. Cereal Box Leprechaun Trap – To find out where the leprechaun has hidden his treasure, build this cereal box leprechaun trap. Lure him in with glittery faux gold and catch him if you can!
4. Cardboard Tube Leprechauns – Transform empty cardboard tubes into cheerful leprechauns with fuzzy yarn beards.
5. It's Your Lucky Day Treat Bags – Use the printable and candy coins to make treat bags for classmates, friends or neighbors this St. Patrick's Day.
6. Leprechaun Cake Trap – Lure a leprechaun with this delicious cake. It's hiding a gorgeous rainbow inside!
7. Shamrock Snack Crisps – This savory snack is a nice change from all the sweets on St. Patrick's Day. They're crispy and light with a great cheese flavor.
8. Leprechaun Pancake – Start St. Patrick's Day with a healthy breakfast. This leprechaun pancake is a great choice.
9. Shamrock Man – Decorate for St. Patrick's Day with this fun guy who is made of construction paper shamrocks.
10. Rainbow Shamrock Wall Hanging – Transform tissue paper into a colorful rainbow dangling from a dimensional shamrock. It's full of St. Patrick's Day cheer.
Don't forget to check out all of our fun St. Patrick's Day crafts!