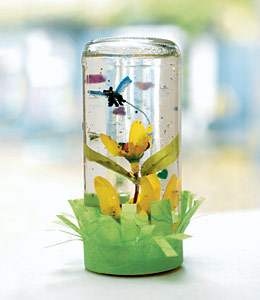 Springtime Globe
This project is a twist on the traditional snow globe. It features fabric flowers, plastic figures, and a little bit of glitter in a recycled jar. This fun no-snow globe is perfect for springtime, and a cute alternate to the winter version.
What you'll need:
Jar with lid
Fabric flowers
Small plastic bee, butterfly, etc.
Hot glue gun
Floral wire
Glitter and confetti
Teflon tape (also called plumbers tape)
Scissors
Green tissue paper
How to make it:
Turn the lid upside down. Arrange the flowers and figures on it without gluing anything down. Check that everything fits by placing the jar over the items.
With the hot glue gun, adhere flowers and figure to the lid. To attach the insect in our project, we first hot-glued it to one end of a piece of floral wire, then hot-glued the wire's other end to the lid.
Fill the jar with water, leaving of empty space. Add the glitter and confetti.
Dry the rim of the jar. Wrap one layer of Teflon tape around the threads to ensure a leak-proof seal. Immerse the decorations in the jar and tighten the lid.
Cut and fringe the green tissue paper. Glue it around the base of the lid.
This project originally appeared on Kaboose/Spoonful and was designed by Amanda Formaro.