Nothing says winter as much as snowflakes… even if it never snows where you live! Whether you experience a snowy winter or not, you can bring winter fun indoors with these great snowflake crafts for kids. We've gathered over 70 of our favorite snowflake-themed crafts, recipes and activities for kids of all ages.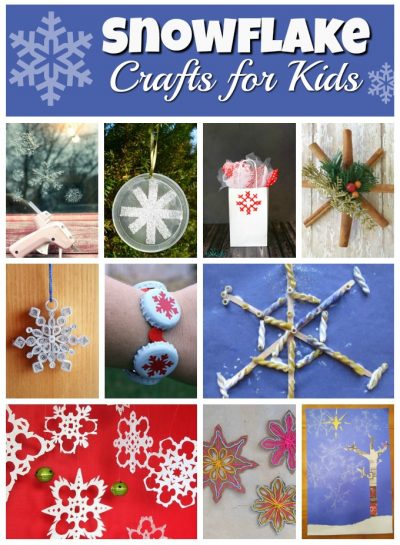 Snowflake Crafts for Kids
Here are ten of our favorite snowflake crafts. You can see all 70+ snowflake crafts, recipes and activities here.
1. Snowflake Rubbings Art – Use yarn to create your own snowflake texture plates, then watch as the designs appear on paper when you rub over them with white crayon. When the rubbings are done, the texture plates can be used as stamps!
2. Cinnamon Stick Snowflake – Turn cinnamon sticks into a beautiful snowflake ornament to hang on a door or display on a table. This ornament smells as good as it looks!
3. Cross Stitch Snowflake Gift Bag – Embellish a plain white gift bag with a beautiful yarn snowflake. This easy project is a great way to introduce kids to cross-stitch.
4. Mickey Paper Snowflakes – Disney fans will love this fun twist on the classic paper snowflakes. While older kids will need to handle the cutting, even the youngest crafters can unfold the paper to reveal the hidden Mickeys.
5. Salty Snowflakes – Double-stick tape makes it so easy to create beautiful snowflakes that glisten like snow. These salty snowflakes are fun for kids of all ages.
6. Quilled Snowflake – This beautiful quilled snowflake is so simple to make and costs practically nothing. Make a bunch, then hang them as decorations, glue them to cards, or scatter them on a tabletop and enjoy them all winter long.
7. Hot Glue Gun Snowflakes – Decorate your windows with glittery snowflakes made with a low-temperature hot glue gun. You can create them directly on the window or on a flat surface and transfer them later. Don't worry- they peel off easily.
8. Pasta Snowflakes – Use a variety of pasta shapes to make all sorts of pretty snowflakes. Leave them plain, or paint them and add glitter.
9. Snowflake Bottle Cap Bracelet – Transform bottle caps into a fun bracelet featuring festive snowflakes. This stenciled bracelet makes a great winter accessory.
10. Cardboard and Yarn Snowflakes – Add color to your winter days with these pretty yarn and cardboard snowflakes. They're easy to do and really encourage creativity.
Be sure to check out all 70+ snowflake crafts here!