Is there a summer treat more beloved than s'mores? National S'mores Day is on August 10, but they're just as tasty any day of the year! And S'mores aren't just for campfires anymore. Here at Fun Family Crafts, we have holiday s'mores crafts and recipes, as well as ones that are great for any time. Be sure to look at all 40+ s'mores-themed crafts and recipes!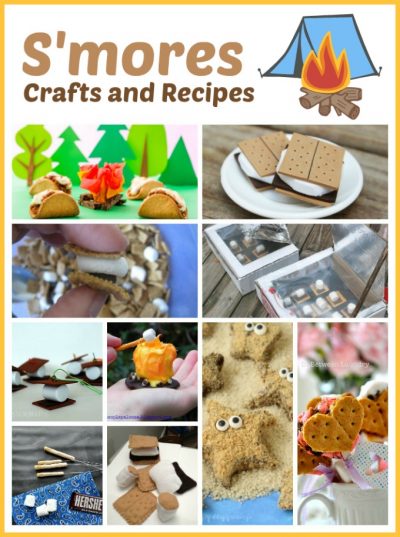 S'mores Crafts and Recipes
1. S'mores Trail Mix – This mini version of s'mores is a fun and easy way to enjoy the great taste of s'mores any time. It's a unique treat to bring for a class birthday celebration!
2. Craft Foam S'mores – These craft foam s'mores look good enough to eat! They're easy to make and fun activity for before or during a camping trip.
3. Solar S'mores – Harness the power of the sun to make some delicious s'mores. This fun science experiment is a great activity for a hot summer day.
4. S'mores Tacos -These s'mores tacos aren't like any tacos you've had before! Kids of all ages will love the delicious graham cracker taco shell, brownie filling and toasted marshmallow topping.
5. S'mores Necklace – Show off your love of the ultimate summer treat with this fun s'mores necklace. It's lots of fun to do on your own or with a group.
6. S'mores Starfish – Serve these sweet starfish at a pool party or a get-together at the beach. They make a fun twist on traditional s'mores.
7. Felt S'mores – These s'mores are great fun for all sorts of pretend play. The tutorial includes instructions to make a felt campfire to enhance the fun.
8. Campfire Marshmallow Cookies – Bring the campfire indoors with these delicious cookies. They're easy to make and taste fantastic.
9. Heart-Shaped S'mores Pops – Turn the campfire classic into a handheld treat that is as cute as can be. Make these pops for yourself or give them to someone you love.
10. DIY S'mores Roasters – Before your next camping trip or cookout, make your own s'more roasters using air-dry clay. These make a wonderful gift for anyone who enjoys camping.
These are just some of the dozens of s'mores crafts and recipes at Fun Family Crafts. You're sure to find something for any age child to enjoy.