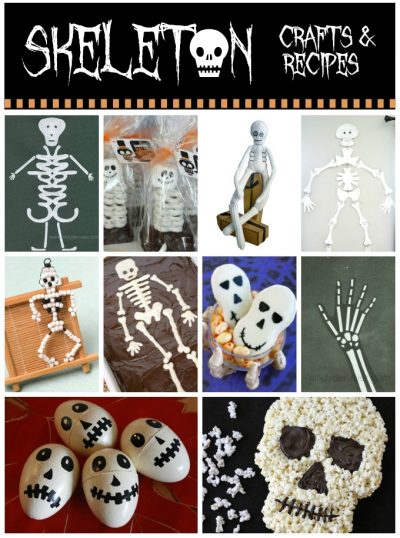 What would Halloween be without a skeleton or two? Skulls are popular too, so we've collected lots of fun ideas you'll love. Some are spooky, some are silly, and some are realistic enough to accompany a study of the human body. Below are ten of our favorites. Be sure to check out all the other skeleton and skull crafts and recipes we have.
Skeleton and Skull Crafts and Recipes
1. Beaded Skeleton – Use white and black seed beads and follow the simple directions to make this dangling skeleton.
2. White Chocolate Popcorn Skull – Set the mood for your Halloween party with this treat that's sweet and salty and a little bit creepy!
3. Name Skeletons – Turn your name into a skeleton this Halloween. Each one is completely unique!
4. Paper Plate Skeleton – Fluted paper plates become a skeleton, perfect for Halloween. The tutorial includes printable templates.
5. Sock Skeleton – This clever skeleton is made from socks! This is a great way to use those mismatched socks we all seem to have.
6. X-Ray Craft – Combine science and art when making this realistic x-ray craft. It's educational and fun.
7. Edible Skeleton Treat – These brownie, pretzel and marshmallow skeletons are simply spooktacular! Kids of all ages will enjoy them.
8. Nutter Butter Skulls – These Nutter Butter Skulls are so easy to make and taste so good! Make them for a Halloween party, or make them at the party as an activity.
9. Skeleton Cake – Whip up this simple treat in a jiffy. Just print the template, make the bones, and add them to the cake!
10. Skull Treat Holders – Transform plastic Easter eggs into spooky Halloween skulls. Stuff them with candy corn and other goodies.
Don't forget to look at the other skeleton and skull crafts and recipes we have. And while you're there, check out all of our Halloween crafts, recipes, printables and costumes. Over 1000 of them are waiting for you!