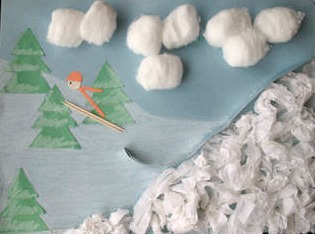 Ski Jump 3-D Art
Capture the thrill of one of the most exciting Olympic events! This 3-D ski jump art project uses several different textures to create a fun scene. This post contains affiliate links.
What You Need:
Construction paper – light blue, green, orange, white
White crayon
Cotton balls
Toothpicks
Craft glue
Scissors
How to Make It:
Put the light blue construction paper horizontally on the table. Use the white crayon to draw a snowy background, leaving the sky area blue.
Cut out trees from green construction paper. Add snow with the white crayon and glue them in place.
Cut a 1/2″ thick strip of light blue construction paper and glue it on its side to form the ski jump. Fill in the space beneath this strip with wadded-up balls of tissue paper.
Arrange two toothpicks near the end of the ski jump to form the skis. They should be at a 45° angle, as if the skier just jumped. Glue them in place.
Use the white construction paper to cut a circle for the skier's head. Add an orange semi-circle on top to make the hat and make a dot for the eye. Cut two narrow rectangles of orange for the skier's body and scarf. Glue them above the toothpick skis, as shown in the picture.
Glue cotton balls in the sky for clouds.
This project was created by Amanda Formaro, originally for Kaboose/Spoonful.