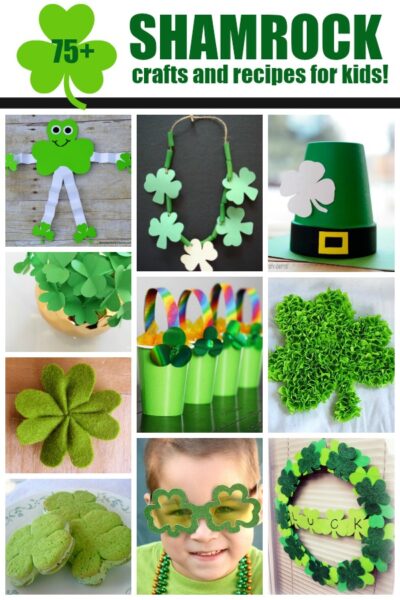 Shamrocks and St. Patrick's Day go hand-in-hand. A shamrock is simply a young sprig, used as the symbol of Ireland. The word comes from the Irish word seamrog, meaning "little plant." We've gathered a bunch of fun shamrock crafts and recipes for you to make for St. Patrick's Day. Below are ten of our favorites.
Shamrock Crafts and Recipes
1. Clay Pot Leprechaun Hat – Turn a clay pot into a festive leprechaun hat decoration for St Patrick's Day. It's so easy and really cute!
2. Paper 4-Leaf Clovers – Create a beautiful bouquet of lucky 4-leaf clovers. They're made from paper, but don't worry – they are quick and easy with no tedious cutting involved.
3. St. Patrick's Day Wreath – Use inexpensive foam shamrocks to create a wreath to decorate the house during the month of March.
4. Shamrock Barrette – Even sewing novices can make these simple hand-sewn felt shamrock barrettes. Give it a try!
5. Lucky Charm Necklace – Help kids develop their motor skills by having them string paper shamrocks and painted noodles. They'll love wearing their own lucky charm necklaces.
6. 3-D Tissue Paper Shamrock – Give green tissue paper a new life by using it to make a dimensional shamrock. This simple project is a classic.
7. Shamrock Ice Cream Sandwiches – Sandwich mint chip ice cream between shamrock sugar cookies for a dessert that is perfect for St. Patrick's Day.
8. End of the Rainbow Loot Buckets – Make St. Patrick's Day extra special with these end-of-the-rainbow loot cups, ready to be filled with tasty treats or glittering gold.
9. St. Patrick's Day Shamrock Man – Use cut-out shamrocks to make your own Shamrock Man! It's such a fun way to be creative on St. Patrick's Day.
10. Glittery Shamrock Glasses – There is no such thing as too much green on St. Patrick's Day! These fun shamrock glasses will have the kids seeing green everywhere they look.
Don't forget to check out the rest of the fabulous shamrock recipes and crafts we've collected for you!