Scarecrows are a classic fall craft. There are so many possibilities! We've gathered over 30 ideas for scarecrow crafts and recipes that kids will love. Below are 10 of our favorites.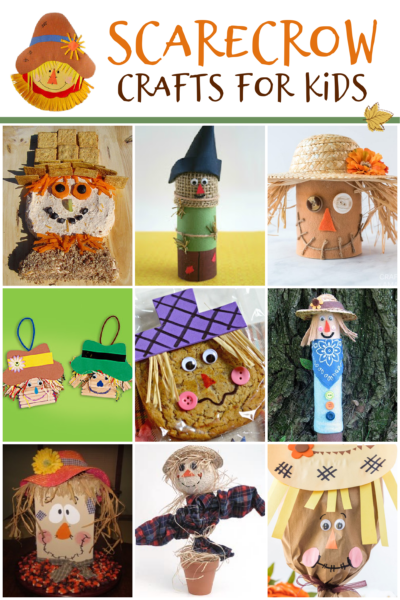 Scarecrow Crafts for Kids
1. Cardboard Tube Scarecrow – Sing along with the most famous scarecrow of all, "If I only had a brain…"
2. Scarecrow Cheese Ball – This scarecrow is entirely edible and looks great on the table during a fall celebration.
3. Silly Craft Stick Scarecrows – Gather craft sticks, foam, and other basic supplies to make these cute little silly scarecrows.
4. Coffee Can Scarecrow – Turn a coffee can into a friendly scarecrow to decorate for fall.
5. Cereal Box Scarecrow – There's so much room for creativity when you transform a cereal box into a scarecrow!
6. Potted Scarecrow – This potted scarecrow works as a centerpiece or can sit on the porch greeting visitors.
7. Paper Bag Scarecrow – Work as a family to turn a paper bag into a scarecrow… or create a whole family of scarecrows!
8. Cardboard Tube Scarecrow Craft – Start with a paper towel tube and let your creativity run wild!
9. Scarecrow Cookies – Start with pre-packaged cookies or pies to make scarecrow favors that stay germ-free. They're great for class parties.
10. Paper Plate Scarecrow – Follow the steps to change a plain paper plate into a festive scarecrow that's perfect for fall.
Don't forget to check out the rest of the kid-friendly scarecrow crafts and recipes!