Collect Rocks Day is September 16. But don't just collect the rocks – use them for crafting! Rock crafts are fun and quite popular with kids. We have gathered over 100 crafts made using rocks. You'll find cute magnets, adorable critters, fun games, and many other great crafts for kids.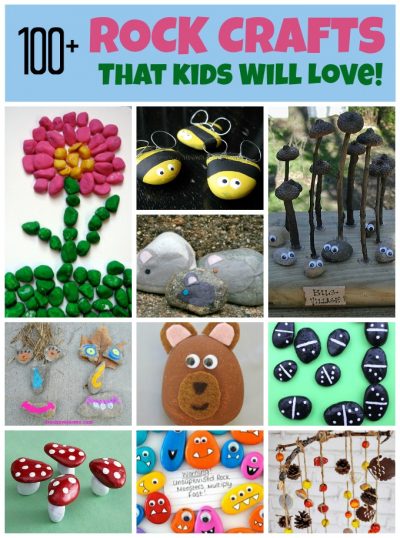 Below are 10 of our favorite rock crafts for kids. You can see all the rock crafts here.
Rock Crafts for Kids
1. Rock Monsters – Use paint and googly eyes to turn ordinary rocks into a family of monsters. Any size or shape of rock will do. Just use your creativity to give it personality.
2. Rock Mushrooms – Two painted rocks come together to make an adorable mushroom! Set aside any smooth rocks you find for this fun rock craft.
3. Bear Pet Rock – Turn a rock into an adorable bear. This is a fun project for kids of all ages, but it's especially appropriate for Cub Scouts earning their Bear rank.
4. Mix and Match Rock Faces – Paint rocks with mix-and-match components to make all kinds of silly faces. The kids will have a blast showing off their creativity with this colorful rock craft.
5. Rock Dominoes – Take a nature walk and collect small, flat stones. Paint the rocks to look like dominoes and enjoy your homemade game!
6. Nature Wind Chime – Here's another fun rock craft to make following a nature walk. Rocks, pinecones, beads sticks and twine make a really neat wind chime.
7. Painted Rock Mosaic – Make a beautiful mosaic out of painted rocks. This colorful craft is inexpensive, easy and has so much room for creativity!
8. Bug Village – Turn rocks, acorns, sticks and twigs into an adorable bug village! Leave it natural, or paint it fun colors.
9. Story Stones – Add fabric or paper to rocks to create your own set of storytelling stones. This open-ended rock craft activity is a wonderful way for kids to explore their creativity.
10. Rock Bees – Ordinary rocks become cute bees with just paint and wire. They're easy and fun to make.
Be sure to check out all of the 100+ rock crafts here!